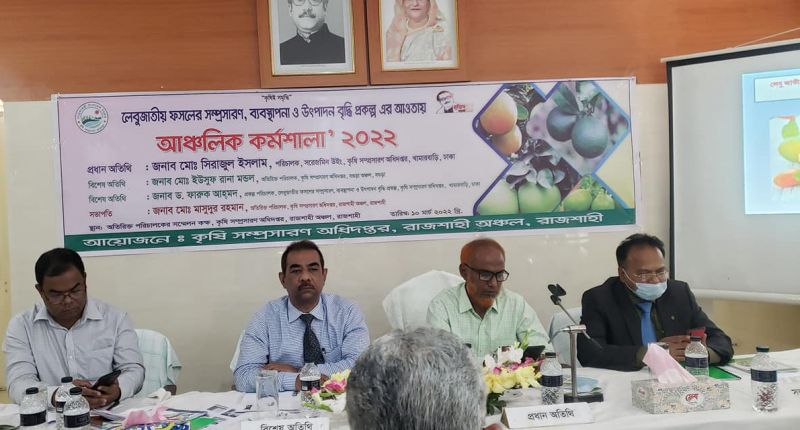 The grassroots farmers to be motivated towards expanding and promoting citrus fruit in Barind area .

Agricultural experts and researcher surged their field level colleagues and subordinates to motivate the grassroots farmers towards expanding and promoting citrus fruit farming to meet the gradually mounting demands through boosting production.
Present government under the dynamic and visionary leadership of Prime Minister Sheikh Hasina has taken time-fitting steps to boost the citrus fruit production in Rajshahi division including its vast Brind tract as its soil texture and climatic condition is suitable for the cash crop farming.
They came up with the observation while addressing the opening ceremony of a daylong regional workshop titled "Citrus Crop Extension, Management and
Increasing Production in Rajshahi and Bogura region" in Rajshahi on Thursday.
The Rajshahi Regional Office of the Department of Agricultural Extension (DAE) arranged the workshop at its regional office conference hall under the
'Extension, Management and Production Enhancement of Citrus Fruit Project'.
DAE Director Sirajul Islam addressed the workshop as chief guest, while Additional Director Yousuf Rana Mondal spoke as special guest with another
Additional Director Masudur Rahman in the chair.
In his remarks, Sirajul Islam said in terms of food and nutritive values green and ripe fruits are vital as these are enriched with enormous vitamin A, B, C, calcium and iron which are essential for human body irrespective of age and sex. So, boosted up fruit farming is very important and helpful for the society as a whole.
He said many health experts are seen suggesting the patients to consume more citrus fruits to protect them from coronavirus infection with early recovery.
Director of the project Dr Faruque Ahmmed gave an overview of the project besides its implementation strategy during his multimedia presentation.
He said it is possible to grow orange, mandarin orange and malta commercially, fulfill the national demand and save foreign exchange by eliminating the problems by developing good varieties and introducing improved management techniques.
Under the Citrus Development Project, farmers are being motivated to grow orange, mandarin and other citrus in the favorable growing areas. Women and tribal farmers are also being involved in growing orange, mandarin and citrus through training.
Dr Ahmmed told the meeting that the project is intended to cultivate citrus fruits, such as orange, blood orange, malta, local lemon, jara and Colombo lemon, to meet the Vitamin C demand among the population as well as to export them abroad.
More than 100 district and upazila level officials and experts from the agricultural extension and research organizations from all eight districts in Rajshahi division joined the workshop.
They were given ideas and knowledge on how to boost the citrus fruit production in Rajshahi division after the best uses of existing natural resources.