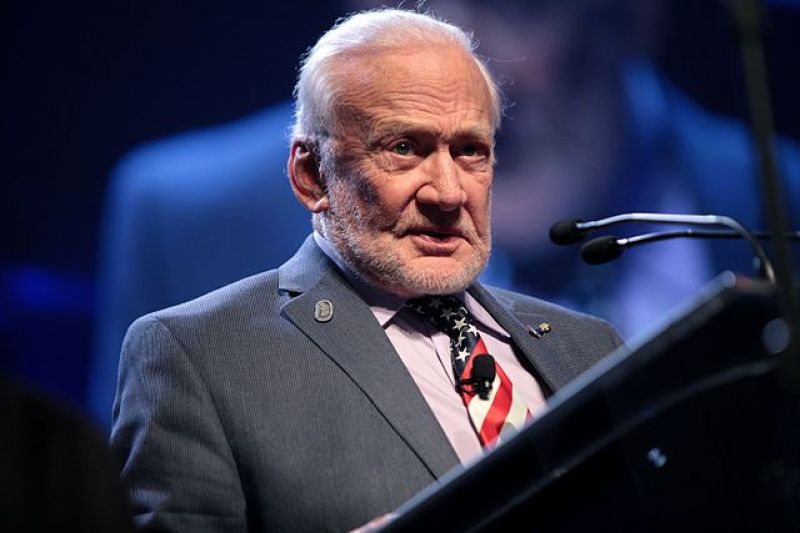 Buzz Aldrin. Gage Skidmore from Peoria, AZ, United States of America. Creative Commons.

Jehangir Hussain

Buzz Aldrin, the second man to walk on the moon, has announced that he got married to his long-term partner on his 93rd birthday.
The retired astronaut celebrated his birthday on Friday and said on Twitter that he "tied the knot" with Dr Anca Faur, 63, in a small ceremony in Los Angeles, reports the Guardain.
He told his followers that the couple were as "excited as eloping teenagers" and shared two photos from the wedding.
Aldrin wrote: "On my 93rd birthday and the day I will also be honoured by Living Legends of Aviation, I am pleased to announce that my long-time love Dr Anca Faur and I have tied the knot.
"We were joined in holy matrimony in a small private ceremony in Los Angeles and are as excited as eloping teenagers."
Faur has worked as executive vice-president of Buzz Aldrin Ventures since 2019, according to her LinkedIn page.
Aldrin has been married and divorced three times. He married Joan Ann Archer in 1954 and the couple were together for 20 years before divorcing. He was married to Beverly Van Zile from 1975 to 1978, and Lois Driggs Cannon between 1988 and 2012.
He has three children – James, Janice and Andrew – with Joan Ann, one grandson, three great-grandsons and one great-granddaughter.
Aldrin became a household name around the world after taking part in the Apollo 11 lunar mission to the moon in July 1969 with fellow astronauts Neil Armstrong and Michael Collins.
Speaking in 2009, he said: "People want us in a few words to generate the enthusiasm that the world had as they contemplated what we were about to do.
"Well, what it felt like is something that we trained for. We were trying to treat it as calmly as we could and perform to the best of our ability."
He became the second man to set foot on the moon and is the last of the three still alive today. Aldrin retired from Nasa in July 1971 and went on to serve as commandant of the Aerospace Research Pilot School at Edwards air force base in California.
jehangirh01@gmail.com