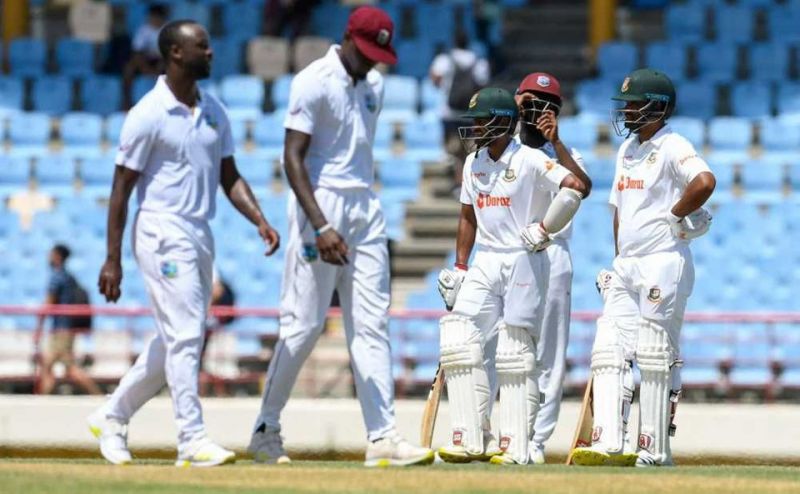 Dhaka, June 28-As it was predicted, Bangladesh were swept in the
two-match Test series in West Indies tour after the home side grabbed a 10-wicket victory in the second and final Test at Darren Sammy National Cricket Stadium in St Lucia on Monday.
The West Indies victory looked a matter of time when Bangladesh were reduced to 132-6 in their second innings, still needing 42 runs to force the hosts batting for the second time.
However the first two sessions of the fourth day were washed out due to wet outfield but when the game resumed, the Caribbean side needed just half an hour to bowl out Bangladesh.
The only positive thing for Bangladesh was that they could avoid an innings defeat, largely due to Nurul Hasan Sohan, who counterattacked to blast an unbeaten 60 off 50, hitting six fours and two sixes.
Thanks to his third Test half-century, Bangladesh was bundled out for 186, setting just a 13-run target for West Indies to win the game.
Kemar Roach, Jayden Seals and Alzzari Joseph snapped up three wickets apiece.
West Indies openers reached the victory mark in just 2.5 overs with John Campbell making an unbeaten 9 with captain Kraigg Brathwaite on 4.
"We always felt that in Test Format it was always going to be tough. We are going to play at home after a long break," Bangladesh captain Shakib Al Hasan said after the match.
"We can reflect on these performances. I am not worried about batting. We need to be mentally tough. [On fast bowling] that's the area we have improved the most in the last 3-4 years. We need to play as a team to win matches. We are a competitive team in white-ball cricket and I am sure it will be a competitive series."
Bangladesh lost the first match by seven wickets after a batting collapse in the first innings that saw them bowled out for 103 runs. They also tasted a batting collapse in the first innings of the second and final Test and were bowled out for 234. West Indies then took a huge 174-run lead, by piling up 408. Kyle Mayers led the charge with 146. He also took two wickets in the Bangladesh's first innings and that was enough to make him the man of the match.
Mayers was also adjudged man of the series for his 153 runs and six wickets in two matches.
"I think the confidence we got from winning the first game was nice. The planning and execution in this match was top-notch, as you can see from how Mayers played," West Indies captain Brathwaite said.
"There is always room for improvement. That's one thing that we always want to keep doing, batting 100 overs whenever we bat. Kemar Roach is a legend of the game. You have to see his attitude off the field. Mayers is special. He is a match-winner. I believe in his ability. It's good to get wins. Australia in Australia is going to be tough. Bangladesh bowlers were very good and it was tough. No matter what the team, you have to stick to your plans."