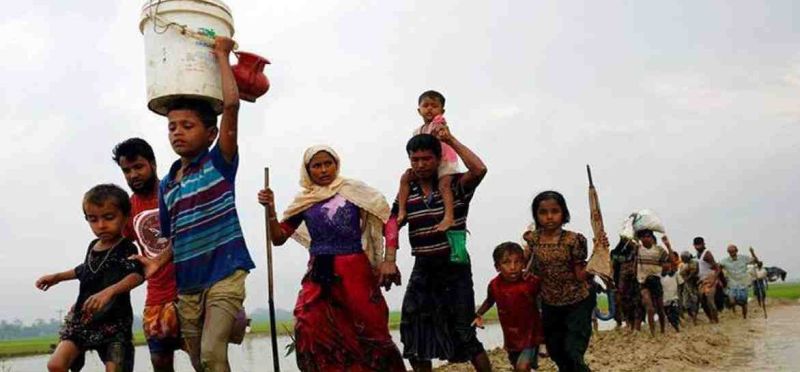 Mathilde, the Queen of Belgium, will visit the largest refugee camp in the world – Kutupalong in Cox's Bazar on Tuesday which hosts more than a million Rohingyas.

The Queen, who is paying a three-day visit to Bangladesh in her capacity as the United Nations Sustainable Development Goals (SDG) advocate, visited a garment factory in Narayanganj and a UNICEF school in Dhaka on Monday.
The company aims to be a "role model" for the textile industry in Bangladesh and is "committed" to meeting all social, ethical and environmental standards.
Earlier, Foreign Minister Dr AK Abdul Momen received her upon her arrival at Hazrat Shahjalal International Airport on Monday morning.
Information and Broadcasting Minister Dr Hasan Mahmud, Ambassador of Belgium to Bangladesh Didier Vanderhasselt and Ambassador and Special Advisor to the Queen Jean-Louis Six, among others, were also present.
The Belgian Queen plans to measure and support the progress made in Bangladesh in the areas of girls' education, women's economic empowerment, fight against domestic violence and mental health awareness.
She is also interested in responses to environmental problems.
She will pay courtesy calls on President Abdul Hamid and Prime Minister Sheikh Hasina and will visit projects linked to flooding in Khulna.
Speaker Dr Shirin Sharmin Chaudhury will host a dinner in honour of the Queen on Tuesday. The Queen is scheduled to return to Dhaka from Cox's Bazar on Tuesday evening.
As one of the 17 SDG Advocates of the UN, she will visit projects in Dhaka and Khulna districts.
"Agenda 2030 requires citizens, civil society, academia, scientists, philanthropic organisations, and the private sector to work together to achieve the Sustainable Development Goals (SDGs). Ownership and participation are key," the UN quoted the queen as saying.
The SDG advocates are 17 inspiring, influential people raising global awareness of the SDGs and the need for accelerated action.
They use their unique global platforms to raise ambition around the SDGs and reach the most vulnerable first.
SDG advocates are strong public figures dedicated to peace, prosperity and the planet, rallying behind the vision of a better world and inspiring others to do the same.
Queen Mathilde ascended the throne in 2013. She is the honorary president of Child Focus, a foundation for missing and sexually exploited children, and UNICEF Belgium.
In 2001, she established the Princess Mathilde Fund (now the Queen Mathilde Fund) to promote the care of vulnerable people. As an SDG advocate, she is particularly focused on mental health, reports UNB
.