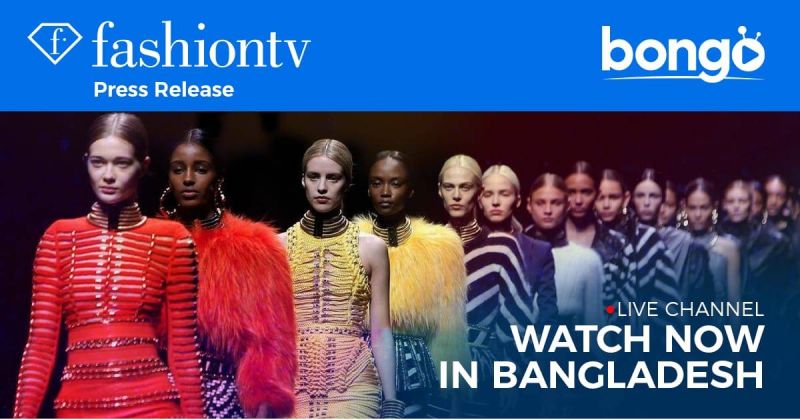 Bongo has introduced its newest Live TV addition 'FashionTV', a global 24/7 Television Network with an exclusive focus on Fashion, Beauty, Design and Lifestyle.

Fashion TV (www.ftv.com) was founded in Paris in 1997 by Mr Michel Adam, the company's President that developed as a leading lifestyle TV channel, in addition to focusing on top Brands, Models and Designers.
Fashion and lifestyle broadcasting channel FashionTV is also pleased to announce their major expansion to Bangladesh through its partnership with Bongo, said a press release on Tuesday.
Fashion TV has launched Programs such as Fashion Destination, Fashion Fitness, Fashion and Films, Fashion and Sport, focus on luxury watches and Cars and other Luxury Items Programming and will include the latest international content on lifestyle, beauty, celebrities, as well as destinations, fitness, children and wellness.
"On Bongo, FashionTV HD will also focus on regional trends based on the Muslim fashion," states President of FTV, Michel Adam.
Bongo's Head of Licensing & Distribution, Karoline Hoeppner said finding a balance between what's shown and what's hidden is a regular part of fashion, specifically for Bangladesh.
"Together with FashionTV, we aim to associate more with the local fashion, lifestyle and entertainment community, playing an active role in supporting Dhaka as an innovative and dynamic fashion hub," Karoline added.
Bongo, the country's first and biggest video streaming service provider in Bangladesh, allows its network of more than 209 million subscribers to watch Bengali content online anytime, anywhere. Besides its Bangla entertainment library with over 15,000 hours' worth of content, the streaming platform o has 45+ local and foreign Live TV channels.
Check out all live channels, Hollywood & Indian blockbuster movies, and Turkish & Original Dramas on Bongo. Download the Bongo app from Google Play Store or iOS Store today or visit www.bongobd.com, reports UNB.