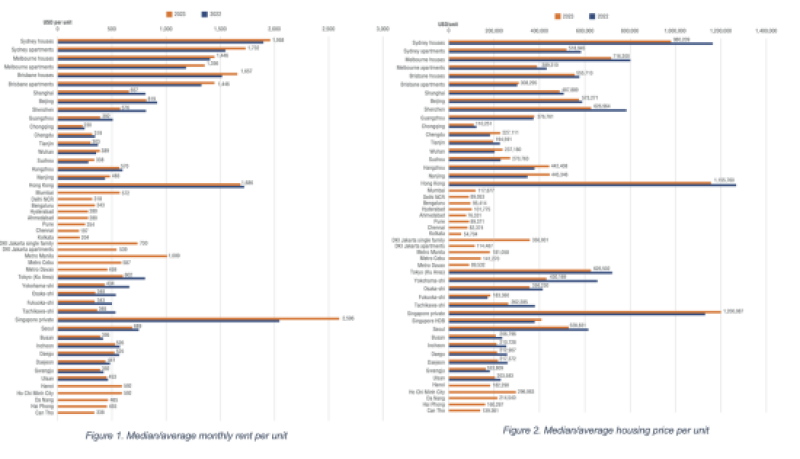 Average monthly rent per unit and average housing price per unit

• At their 2023 Asia Pacific Summit happening from 29 May to 1 June, ULI unveiled its 2023 APAC Home Attainability Index.

• The report compared housing prices against the median income across 45 cities in the APAC region and Singapore's private sector homes have now greatly surpassed last year's top runner, Hong Kong, as the most expensive in the region.
• Singapore's private sector rental homes are now also the most expensive in the region at a US$2,600 (SG$3,500)/month on average.
SINGAPORE - Media OutReach - 30 May 2023 - The Urban Land Institute's (ULI) recently released 2023 Asia Pacific Home Attainability Index report provides a high-level snapshot of the extent to which housing is attainable in cities in the Asia Pacific region. The report covers 45 cities in nine countries, namely, Australia, China, India, Indonesia, Japan, the Philippines, Singapore, South Korea, and Vietnam, with a combined population of 3.5 billion or around 45% of the world's total population, measuring home attainability for both home ownership and home rentals in relation to the median income of households.
Kenneth Rhee, Senior Director of ULI China and primary author of the report said, "Housing stocks and home attainability vary greatly in the Asia Pacific region. Key factors for home attainability include demographic trends, government policies related to land use and density, the ability to redevelop or regenerate urban areas in decay, availability of financing for home purchase, the government's involvement in the home provision, and the impact of COVID on new home supply."
In terms of home ownership, housing in Singapore is deemed most attainable with the median price of Housing Development Board (HDB) units at 4.7 times the median household income. Home attainability is severely challenged in Tier 1 and leading Tier 2 cities in mainland China, Hong Kong SAR, Metro Manila, Metro Cebu, Ho Chi Minh City, and Danang with median home prices at approximately 20 to 35 times median household income. Compared to home ownership, home rentals are deemed more attainable with monthly rent for most cities at below 30% of median household income. Cities in Japan and South Korea have the lowest ratio of monthly rent to income.
According to the report, Singapore's private sector homes have surpassed Hong Kong SAR as the most expensive in the region with a median price of US$1.2 million. Also, with a nearly 30% increase in monthly rent, Singapore private sector rental homes are also the most expensive in the region with a median monthly rent of approximately US$2,600. For the sharp increase in home price and rent, the report cites as key causes (1) a large influx of immigrants into the city-state, (2) a growing trend of young professionals to move out of their multi-generational family homes for more space and freedom, (3) the government's new measure that requires homeowners to serve a 15-month wait-out period after the disposal of their private properties before they are eligible to buy a non-subsidised Housing Development Board (HDB) resale flat, (4) a relatively limited stock of institutionally or individually-owned rental properties, and (5) a reduced new supply of housing in the past few years due to the disruption to the supply chain of building materials and labour due to COVID.
Homeownership varies significantly in the region, often a function of government policies and population migration. Singapore continues to have the highest homeownership rate of nearly 90%, thanks to the government's decision and consistent commitment to enable its citizens to own homes at reasonable prices from the early years of the country's independence in the 1960s.
In contrast, other gateway cities such as Hong Kong SAR, Shanghai, Tokyo, and Seoul have relatively low homeownership rates, reflecting high home prices and the more migratory nature of the populations in gateway cities.
David Faulkner, President of ULI Asia Pacific said, "This report explores the implications of shifts in housing demand and regional competitiveness, arising from wide-ranging factors that impact home attainability. Our goal at the ULI Asia Pacific Centre for Housing is to advance best practices in residential development and to support ULI members and local communities in creating and sustaining a full spectrum of housing opportunities. Through thought leadership, we aim to catalyse the production of housing and inspire a broader commitment to housing."
Some key findings from the report:
• Australia: Home prices have declined in Australia's top two cities, Sydney and Melbourne. COVID-19 has caused a migration of people from Sydney to smaller regional cities with people looking for more space; this has created a housing shortage in the regional cities, worsening home attainability for existing residents.
• Tier 1 and 2 cities in Mainland China: Similar to last year's findings, mainland Chinese cities rank among the lowest in terms of home attainability. Home price is closely tied to new housing supply to population increase.
• Hong Kong SAR: Home prices dropped substantially in 2022, returning to 2017 prices, mainly caused by a drop in population and a rising mortgage interest rate.
• India: Among the eight cities studied in India, Mumbai has the highest median home price per square metre of US$3,383, with Delhi NCR trailing far behind at US$1,358. Compared to other developing countries, India's housing price is relatively inexpensive compared to the median household income.
• Indonesia: Jakarta's housing stock is predominantly landed homes, which contributes to urban sprawl and heavy traffic congestion and exacerbates the rate of soil subsidence as most landed homes rely on groundwater.
• Japan: The median monthly rent of Japanese cities relative to median household income is the lowest among all the cities in the report. The median monthly rent ranges from US$350 in Osaka to US$602 in Tokyo Ku. This is due to a relatively large pool of available housing for rent resulting from an ageing population and limited new household formation.
• Philippines: While Metro Manila allows a high FAR (Floor to Area Ratio) of 16 or even higher, it suffers from limited housing stock and poor urban transportation infrastructure for a fast-expanding number of young professionals. The government has recently embarked on an ambitious campaign to building 1 million homes per year for the next five years.
• South Korea: A recent home price drop has created problems for 'Jeonse', a unique form of home rental in South Korea where tenants put up a lump sum deposit of as much as 70-80% upfront instead of paying monthly rent during the lease period. With declining housing prices in recent months, a growing number of 'jeonse' landlords have been unable to return deposits to renters at lease expiration.
• Vietnam: Homes in Ho Chi Minh City are the second least affordable, at 32.5 times the median household monthly income. Many home buyers are speculative investors who own multiple units, further driving up house prices.
The 2023 Asia Pacific Home Attainability Index summary report can be found on ULI's Knowledge Finder platform.