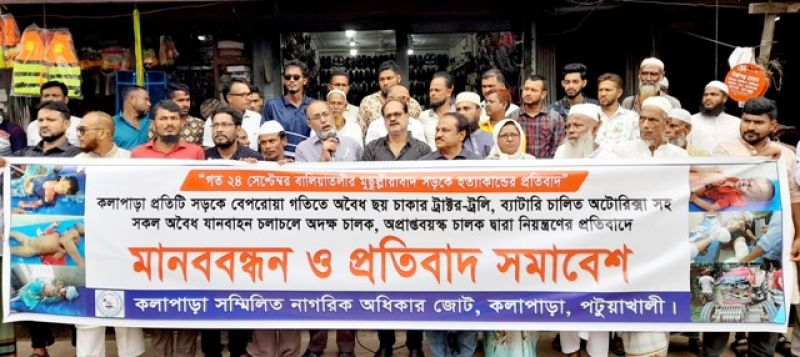 Human chain in Kalapara demands ban on 6-wheeler trolleys

Patuakhali: A human chain and rally was held to protest the movement of all illegal vehicles including autorickshaws, btavtis by unskilled, minor drivers along with illegal six-wheeler tractor-trolleys on the roads and highways of Kalapara upazila of Patuakhali. The rally and human chain was held at Shahid Surendramohan Chowdhury Road in Kalapara municipality under the banner of Sammilita Nagarik Adhikar Jota at 11 am on Saturday.

Under the chairmanship of Syed Rezaul Karim, President of Kalapara Combined Civil Rights Alliance, Upazila Parishad Chairman SM Rakibul Ahsan, Upazila Awami League Joint Secretary Principal Mananjurul Alam, former Upazila Parishad Chairman Prof. Mostafizur Rahman, Women Councilor Manowara Begum, General Editor of Kalapara Combined Civil Rights Alliance Gautam Hawladar also spoke in the human chain.
On September 24, people from various professions including family members of those who were killed in a trolley crash in Mushulliyabad area of Baliatali Union on Kuakata Alternative Road of Upazila were present. - Gofran Biswas Palash