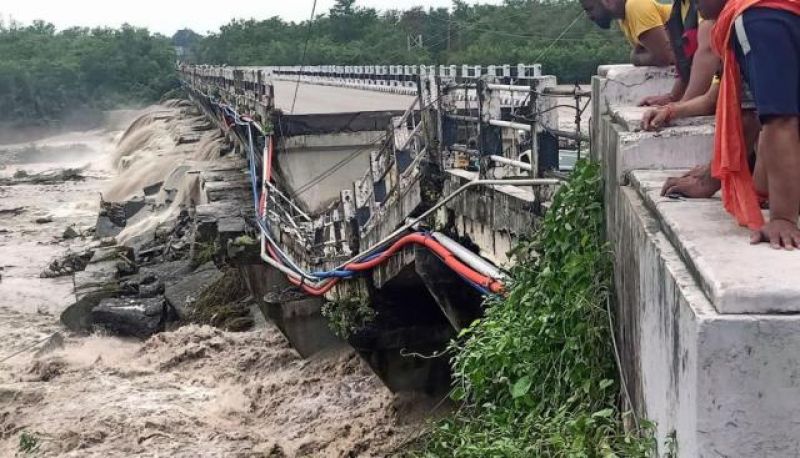 Collapse of a bridge due to land mining

February 21, 2022SANDRP

One of the key underlying theme of several stories this week is about more resounding evidence from several parts of the world including India (Kerala, Arunachal Pradesh, Kashmir, NHPC), Bhutan, Nepal, USA and Canada among others, that hydropower projects are no longer even economically viable, besides being socially and environmentally destructive and unacceptable. It is high time that our authorities wake up and realise this soon rather than spending massive amounts of scarce resources on such unviable projects that also work as force multipliers in the changing climate.
As we can see from the stories below, in Kerala 128 hydropower projects are in limbo for decades, and in J&K the centre has not allocated any money from the PM's package for hydro projects. In Arunachal Pradesh, for the biggest capacity under construction hydropower project of India, 17 years after clearance, even as NHPC claims that it is ready to commission first units in Aug 2022, the bulk of the compensatory afforestation has still not happened, and the MoEF seems to have woken up from its slumber following questions from a journalist! In Bhutan, the government is worried about the cost of power from under construction large hydro projects and viability of selling such high cost power and also implications of the high debt for the nation. In Nepal, after several extensions, GMR is still unable to achieve financial closure or Power Purchase Agreement for the Karnali Hydropower project. Same is the situation with the West Seti Hydropower project. The Pancheshwar Hydropower that was in news during the last Uttarakhand assembly elections is no longer in the news this time. In USA, there is legitimate opposition to New York City importing hydropower from Canada calling it clean and renewable source of power, since, as advocacy groups state there, hydropower is not clean or renewable.
The writing is once again there for anyone to read, but the vested interest driven lobbies are unlikely to read it any time soon.
Kerala 128 HEPs in limbo for decades 128 small hydroelectric projects with an aggregate capacity of 798 MW remain non-starters despite being proposed several decades ago. They do not include large ventures like the 163 MW Athirappilly project. Electricity Minister K Krishnankutty admitted that several small hydroelectric projects are stuck due to "minor issues". However, he said the government has identified several such projects and implement them in the next 12-18 months.
– Four small hydroelectric projects – Poringalkuthu (24 MW), Thottiyar (40 MW), Bhoothathankettu (24 MW) and Pallivasal (60 MW) will be implemented in 12-15 months, while the foundation stone for the Mankulam (40 MW) project will be laid in the coming week, he said. Tendering process on for: Olikkal (5 MW), Poovaramthodu (3MW), Marippuzha (6 MW).
– "The minor land issues that delayed Chinnar project (24 MW) have been sorted out. Tendering processes for Olikkal (5 MW), Poovaramthodu (3MW), and Marippuzha (6 MW) are on," he said. He said the 128 small projects were identified for implementation by the Union power ministry over several years in various studies. "However, not all of them are viable and feasible. So, it's not proper to say all 128 projects are pending," he said.
– Krishnankutty said that the government is also moving quickly to establish the second powerhouse at Idukki. Consultancy firm WAPCOS Ltd, a PSU under the Union Jal Shakti Ministry, is in the final stages of preparing a detailed project report for the 800 MW project.
– Other pending projects include Bavalippuzha–II (8 MW), Valamthodu (8 MW), Pambar (40 MW), Achankovil (30 MW), Chenkulam augmentation (24 MW), Upper Chenkulam (24 MW), Vakkalar (24 MW), Kakkadampoil-I (20 MW), Karikkayam (15 MW), Keezharkuthu (15 MW) and Nakkayam (12 MW). https://www.newindianexpress.com/states/kerala/2022/feb/14/128-hydroelectric-projects-in-kerala-in-limbo-for-decades-2419045.html (14 Feb. 2022)
J & K 5 years on, SHPs await central funding The central government has not released a single penny for the construction of small hydro-power projects in Jammu and Kashmir, despite announcing an outlay of Rs 2000 crore under the Prime Minister's Development Package. With no allocation in the last five years, no small hydropower project could not be developed in J&K post the announcement of the PM package," said a senior official. An official document of the J&K government accessed by Greater Kashmir reads as "no funds sanctioned/released by GoI for SHPs under PMDP-15 till date.
– "23 Small Hydro Electric Projects (SHPs) identified/selected with a total estimated cost of around Rs 3900 crore (10 SHPs of 10-25 MW: Rs. 2701.83 Cr and 13 SHPs of 2-10 MW: Rs. 1198.17 Cr). 19 DPRs prepared; 4 DPRs under finalization." "The government of J&K vide various communications dated 12.03.2019, 31.07.2019, 22.06.2020 & 04.06.2021 has requested the MNRE, GoI for sanction of central financial assistance to the tune of 60 percent of the Project cost for each of the SHP. Meanwhile, MNRE has released Rs 5 crore on 10.09.2021 for setting up of one of the SHPs, namely Karnah (12 MW) through the erstwhile normal SHP scheme (not under PMDP). Works under Karnah project in execution." https://www.greaterkashmir.com/todays-paper/business-todays-paper/5-years-on-small-hydropower-projects-await-central-funding (16 Feb. 2022)
NHPC seems to accept that big hydro IS NOT RENEWABLE, it now floats NHPC Renewable Energy Ltd that excludes big hydro! The new Company has been registered on Feb 16, 2022. https://energy.economictimes.indiatimes.com/news/renewable/nhpc-incorporates-nhpc-renewable-energy-ltd-for-clean-energy-business/89662496 (18 Feb. 2022)
Bhutan Will Bhutan be able to export electricity in the future? Significant cost escalation and delays with the ongoing hydropower projects have raised concerns as to whether Bhutan will be able to export electricity after commissioning the projects. This has also exerted pressure on the already ballooning national debt. Hydropower debt constituted 73 percent of the total external debt at Nu 162.48 billion (B) as of the end of December 2021.
– The cost of the two major ongoing hydropower projects in the country, 1,200 megawatts (MW) Punatsangchhu-I (P-I) and 1,020MW Punatsangchhu-II escalated to Nu 93.75B from Nu 35B estimated in 2006 and Nu 89.77B from Nu 37B estimated in 2009 respectively. Both the projects are under the inter-governmental (IG) model. https://kuenselonline.com/will-bhutan-be-able-to-export-electricity-in-the-future/ (19 Feb. 2022)
Nepal Govt to give GMR 2 yrs to generate funds for Upper Karnali HEP The government has decided to give the Indian GMR Group two years to generate funds for the Upper Karnali Hydropower Project. The company has been dillydallying for the past few years, yet the government seems helpless to do anything except extending the time. Out of the two years, six months have been given to sell the electricity produced from the project through the power sales agreement (PSA) and 18 months for financial closure. The company told the Nepal committee that the government of Bangladesh had already issued a letter of intent to purchase 500 MW of power for the project that would assure them a return of its investment. GMR also stated that it needed time to find ways to sell electricity to Bangladesh and had spoken with Indian companies NTPC and NNVN. https://english.onlinekhabar.com/gmr-upper-karnali-hydropower-project.html (17 Feb. 2022)
USA NYC's Big Clean Energy Plan Is Under Attack From One-Time Advocate The New York City plan to import hydropower from Canada is being opposed. Riverkeeper, a powerful environmental group that initially supported the plan, is now asking regulators to reject the deal, arguing that the hydro dams used to generate power are also significant sources of carbon emissions. The Sierra Club shares many of its concerns.
– Riverkeeper said it turned against the project after evaluating research on emissions from hydropower dams owned by Hydro-Quebec, which will supply the power. The vast reservoirs needed to store the water for hydropower are often created by flooding areas covered in plants and trees; over time, all that organic material will decompose and create carbon emissions. It's also worried Hydro-Quebec may eventually build new dams, threatening First Nations in the region. https://www.bloomberg.com/news/articles/2022-02-18/champlain-hudson-power-express-plan-to-bring-hydro-power-to-nyc-faces-pushback (18 Feb. 2022)
HYDRO POWER PROJECTS
Arunachal Pradesh 'Bulk of Subansiri compensatory afforestation awaited even after 17 yrs' As of 16 Dec, 2021, the Arunachal Pradesh government had not started the bulk of compensatory afforestation against NHPC's 2,000 mw Subansiri Lower Hydroelectric Project, even after 17 years. For the project, there will be diversion of 3,999.30 ha forest land, with 3,180 ha in Arunachal and the rest in Assam. In a letter to Arunachal forests principal secretary, MoEFCC stated: "Despite the fact that the proposal was accorded in the year as early as 2004, ie, 17 years back, compensatory afforestation is yet to be done." MoEF has asked for "Compliance report on the conditions stipulated in FC approval dated 12.10.2004."
– The MoEFCC has also asked that the "state government may provide the project-wise and year-wise details of funds received by the government of Arunachal Pradesh from the national authority/ad-hoc CAMPA under NPV/CA/CAT Plan, etc, so far and status of carrying out approved activities including CA." The ministry has sought "convincing justification for the delay in carrying out CA and the status of the project implemented till date on the forestland."
– "The clear felling of trees started from Oct 2021," the NHPC said. Response from the NHPC and the forest department regarding the delay in compensatory afforestation is awaited. https://arunachaltimes.in/index.php/2022/02/15/moefcc-reminds-arunachal-that-bulk-of-subansiri-compensatory-afforestation-awaited-even-after-17-years/ (15 Feb. 2022)
Decision-makers need to take EIAs seriously The recent passage of the Dam Safety Bill by the Indian parliament will only address part of the problem if environmental impact assessments are faulty. But the Dam Safety Bill regulates dams that have already been constructed, not whether upcoming projects are safe. A useful addition would be for an appropriate authority to undertake a rigorous environmental impact assessment (EIA) during the early stages of decision-making on hydropower projects to ensure the protection of ecosystems and sustainable development. https://www.thethirdpole.net/en/energy/hydropower-arunachal-pradesh-decisionmakers-need-to-take-eias-seriously/ (04 Feb. 2022)
Rare white bellied heron seen in Kamlang Tiger Reserve -The species is mainly found near small or large rivers, usually with sand or gravel bars, adjacent to the subtropical or tropical broadleaved forest. They are also spotted in lowlands up to at least 1,500 metres, and lakes near wet grasslands. Mainly found in inaccessible and undistributed areas, the birds are generally solitary. However, they may aggregate into small flocks and family groups during winter. https://indianexpress.com/article/trending/trending-in-india/white-bellied-heron-kamlang-tiger-reserve-7772964/ (15 Feb. 2022)
A new species of primate discovered is at risk due to hydropower projects. https://www.thewildlifeindia.com/2022/02/Newly-Discovered-White-Cheeked-Macaque-Face-Threat-From-Hydro-Power-Projects.html (16 Feb. 2022)
Jammu & Kashmir Book Review: Peer Ghulam Nabi Suhail's 'Pieces of Earth', OUP-2018, p 212, Rs 695. The Book is an ethnographic study of two villages (Badwan and Khapri) of Gurez, a border area, where peasants have not just lost land and livelihood, but also their roots, ever since the announcement of the Kishenganga Hydroelectricity Project in 2002.
– The peasants — dispossessed and displaced — are not just losing land and livelihood, but also their roots. Suhail writes: "When land is needed, people are not" (p. 119). The NHPC, as the evidence provided, is being looked upon as India's "East India Company" to loot the local resources.
– A peasant protest put it as: "NHPC wants to illuminate Hindustan. Neither Gurez nor Kashmir gets benefit of it. We are helpless." (p. 113). A former minister equates the NHPC with British East India Company: "NHPC is a cheater…and it is illegally occupying the land here…extracting resources of Kashmir like British East India Company." (p. 15-16). https://www.outlookindia.com/national/precarious-life-dispossessed-peasantry-and-development-in-kashmir-news-182475 (15 Feb. 2022)
Uttarakhand Vanishing village victim of hydro electric power project Yet another human-made tragedy is unfolding now at Haat village in Chamoli district. The village traces its origin to Adi Shankaracharya, who is believed to have established the Laxmi Narayan temple there. In 2008-09, it was decided to acquire all the land in the village for the 444 MW Vishnugad Pipalkoti Hydro Electric Power Project to be executed by THDC India Ltd on the Alaknanda river. Even the Archaeological Survey of India has noted that the temple could date back to the ninth or tenth century. The village residents believe Adi Shankaracharya himself built the temple in the eighth century. They claim to have ancient manuscripts inscribed on tamrapatra (copper plates) to support their claim. https://frontline.thehindu.com/environment/vanishing-village-victim-of-hydro-electric-power-project/article38375351.ece (25 Feb. 2022)
Himachal Pradesh SJVN CMD inaugurated the Beas river diversion work for the Rs 687 Crore 66 MW Dhaulasidh project in Hamirpur district. PM laid the foundation stone on Dec 27, 2021. https://energy.economictimes.indiatimes.com/news/power/sjvn-cmd-inaugurates-river-diversion-of-66-mw-dhaulasidh-hydro-power-project/89615667 (17 Feb. 2022)
Maharashtra Raju Shetti opposes privatisation of hydroelectric power plant The Mah government has decided to hand over the 27 hydropower projects of small-size capacities to the private firms on a build-operate-transfe (BOT) basis. These power plants were transferred by the state government to the Maharashtra Electricity Generation Corporation Limited (Mahagenco) for 35 years. Now, they have completed 35 years and are transferred back to the water resources department, which has started the process to hire private firms to run and maintain the plants. The policy to privatise hydroelectric power projects is in place since 2005. Farmer Leader Raju Shetti opposed: "The state government is planning to buy the power to be generated from the six plants by the private players at the rates higher than it charges to Mahagenco. It will ultimately increase the power tariffs. We will take up the issue with the higher authorities."
– The state government has invited quotations for Yeldari, Vaitarna, Bhatghar, Koyna stage 3, Koyna base station, Paithan (Jayakwadi) hydroelectric plants. These six plants have a total capacity of 470.50 megawatts. "We claim that many leaders across political parties are desperate to run the power plants for commercial benefits. We smell a scam similar to the one involving the selling of the cooperative sugar mills to the private firms owned by the political leaders." https://timesofindia.indiatimes.com/city/kolhapur/shetti-opposes-privatisation-of-hydroelectric-power-plants/articleshow/89651704.cms (18 Feb. 2022)
MoEF One Item Agenda of EAC meeting on River Valley Projects to be held on Feb 22, 2022 Teesta Low Dam – I & II (Combined) Hydro-Electric Project 71 MW (2×30+1x11MW) in 170 ha by West Bengal State Electricity Distribution Company Ltd in Triveni town, Tehsil Rangli Rangliot, Dist Darjeeling-Terms of Reference http://environmentclearance.nic.in/writereaddata/Form-1A/Agenda/1602202251415740FinalAgenda-RiverValley_24thEAC_22-02-2022.pdf
DAMS
Centre constitutes National Dam Safety Authority The Centre also constituted a 22-member National Committee on Dam Safety which will be headed by the Chairman of the Central Water Commission. The NDSA, which seeks to maintain standards related to dam safety, prevent dam-related disasters and resolve inter-State issues in this regard, has come into force from Feb 18, 2022. The Dam Safety Act, passed by Parliament on December 8 2021, states that a NDSA will liaise with State-level dam safety organisations and owners of dams for standardising safety-related data and practices.
– The Gazette notification on Feb 17 2022 said the Authority will be headed by a chairman and assisted by five members to lead its five wings — policy and research, technical, regulation, disaster and resilience and administration and finance.
– The Centre also constituted a 22-member National Committee on Dam Safety which will be headed by the Chairman of the Central Water Commission. https://www.thehindu.com/news/national/centre-constitutes-national-dam-safety-authority/article65061558.ece (18 Feb. 2022)
Emmanuel Theophilus of FB post comment:- Isn't there a serious problem with the CWC heading every single committee? They are in all the committees that identify dam projects, supply flow data, commission EIAs, decide on seismic hazard and so on. How will they ever find fault with their own decisions?
Tamil Nadu Farmers association question the Dam Safety Act and ask about the continuation of the Cauvery Management Authority. https://www.thehindu.com/news/cities/Tiruchirapalli/farmers-question-cauvery-water-management-authoritys-status/article65065192.ece (19 Feb. 2022)
Mullaperiyar Dam Kerala seeks review of 2014 judgement Kerala has sought a review, if necessary, by a large bench of the SC, of the 2014 SC verdict on Mullaperiyar dam, invoking Precautionary Principle and mentioning the Feb 2021 Chamoli disaster of Uttarakhand, saying the only solution is a new dam, in place of existing dam. Kerala has submitted to SC an affidavit to this effect. It has also mentioned the changing rainfall pattern, considering the rainfall during 2018-2021. https://theprint.in/india/kerala-seeks-review-of-2014-judgement-on-mullaperiyar-dam-issue-demands-new-dam/836087/ (18 Feb. 2022)
Minister for Water Resources Duraimurugan on Friday (Feb. 18) said the State government will not give up its rights over the Mullaiperiyar dam and that Kerala cannot build a new one since it would violate Supreme Court ruling. His statement came following Kerala Governor's address in the Assembly, where he said the government would take steps to build a new dam. https://www.newindianexpress.com/states/tamil-nadu/2022/feb/19/kerala-rakes-up-mullaiperiyar-wont-give-up-rights-tn-water-resources-minister-duraimurugan-2421237.html (18 Feb. 2022)
The Tamil Nadu government on Friday, February 18, strongly condemned neighbouring Kerala's announcement to construct a new reservoir in the place of the existing Mullaiperiyar dam and said the move was arbitrary and amounted to contempt of Supreme Court order. Lashing out at Kerala for the announcement, state Water Resources Minister Duraimurugan said Tamil Nadu would oppose it in all aspects. Kerala government's announcement to build a new dam in the place of the existing one is arbitrary and unacceptable," he said. https://www.thenewsminute.com/article/kerala-announcing-new-mullaiperiyar-dam-arbitrary-contempt-court-tamil-nadu-161146 (18 Feb. 2022)
Polavaram Project Centre agrees to keep 'Stop Work' order in abeyance for 2 yrs An example of how the environment laws and regulations in India are a joke. Since 2011 there is stop work order for Polavaram dam from MoEF, but it has been kept in abeyance every year and now it is extended to July 2023! Amazingly, several petitions against the project remain pending before various courts including the SC! https://www.deccanchronicle.com/nation/politics/180222/polavaram-centre-agrees-to-keep-stop-work-order-in-abeyance-for.html (18 Feb. 2022)
Source: DRP NB 21 Feb 2022: UNVIABLE HYDRO STORIES FROM INDIA, BHUTAN, NEPAL, US – SANDRP