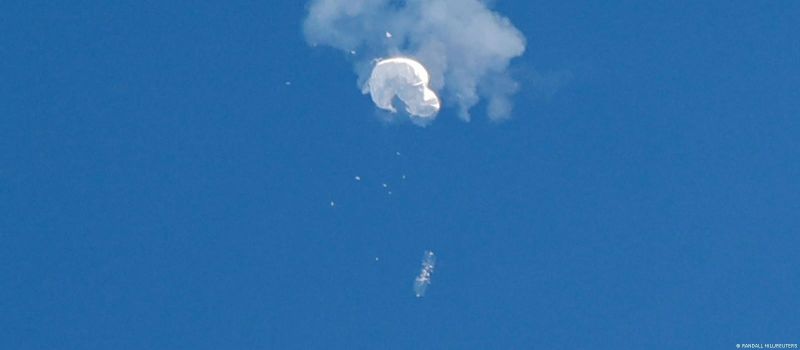 China on Monday confirmed that a balloon flying over Latin America is Chinese and said it is for civilian purposes. This comes shortly after a similar device was shot down by the United States on Saturday.

"It has come to be understood that the relevant unmanned airship is from China," foreign ministry spokesperson Mao Ning said.
Mao also said the device, with limited self-steering capability, "seriously deviated from its scheduled route, and accidentally strayed over Latin America and the Caribbean."
Earlier, Colombia's air force had released a statement that it had detected possible balloon in its air defense system on Friday.
US searches for debris
After shooting down a suspected Chinese surveillance balloon, the US military said it is searching for the debris on Sunday off the South Carolina coast.
The Navy is working to recover the balloon and its payload,General Glen Van Herck, commander of the North American Aerospace Defense Command and US Northern Command, said on Sunday. He added that the Coast Guard was providing security for the operation.
"Members of the US Military are coordinating to collect debris; however, fragments may make it to the coastline," the Horry County Police Department statement said.
Law enforcement officials have warned people against touching any debris and instead call dispatchers.
CNN quoted a senior US military official as saying that multiple US Navy and Coast Guard vessels are in the area and are securing a perimeter.
According to Transportation Secretary Pete Buttigieg, the debris field created by the downed balloon was 7-miles (11-kilometers) long.
How did the incident unfold?
Pentagon officials on Thursday revealed that they were tracking a suspected spy balloon belonging to China flying over the US skies for a few days.
US Defense Secretary Lloyd Austin said the balloon attempted "to surveil strategic sites in the continental United States."
The balloon was shot down a missile from an F-22 fighter after US President Joe Biden authorized the downing of the balloon.
How has China responded?
China expressed "strong dissatisfaction" with the US use of force to strike its "unmanned civilian" airship, calling it a "serious violation of international practice."
On Monday, vice foreign minister Xie Feng said: "The United States' actions have seriously impacted and damaged both sides' efforts and progress in stabilising Sino-US relations since the Bali meeting."
He was referring to a summit between Biden and his Chinese counterpart Xi Jinping in November.
China "is paying close attention to the development of the situation" and "reserves the right to make further necessary reactions," a Foreign Ministry statement said.
Beijing on Monday summoned the US charge d'affaires over the incident.
Republican lawmakers on Sunday criticized President Biden's handling of the situation saying he waited days to shoot down the balloon. They claimed the delay conveyed weakness toward China.
Meanwhile, Former President Donald Trump refuted claims that similar balloons were seen during his presidency.
"China had too much respect for 'TRUMP' for this to have happened, and it NEVER did," Trump wrote on his social media site Truth Social.
Republican Representative Michael Waltz contradicted Trump's claims, telling the Washington Post that during Trump's tenure Chinese balloons were spotted near the US several times, reports DW.
.