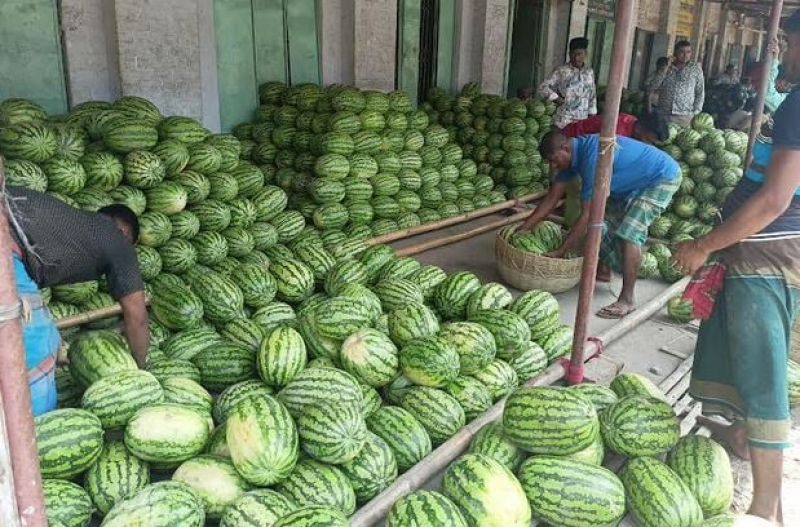 Farmers demand canal for irrigation in Kalapara

Patuakhali: In Kalapara of Patuakhali, farmers staged a human chain rally demanding the digging of Pakhimara Canal for agricultural irrigation facilities, occupying the filled section of the canal. The farmers formed a human chain on Monday afternoon with placards saying 'We don't want relief, we dig canals and give fresh water'. Farmer Zakir Hossain Gazi, development worker Iman Al Ahsan, farmer Quddus Hawladar and others spoke in this human chain for about an hour.

Farmers said that thousands of farmers of 11 villages on both sides of the 10 km long and 500 feet wide Pakhimara canal cultivate Rabisya, Aman and Borodhan along with vegetables through the conservation of fresh water. But about half a kilometer of the Kumirmara section of the canal has been filled up. Now there is a football field. People travel with motorcycles. As a result, the farmers of both banks are not able to irrigate the cultivated boro and rabiesya fields. There has been a disaster in agriculture. The farmers demanded immediate excavation of the filled-up portion of the canal. If they get permission from the government, farmers can produce agriculture by digging and storing fresh water on their own initiative.
The farmers said, 'We don't want relief, we dig canals and give fresh water'. So we can produce agriculture.
Upazila Agriculture Officer ARM Saifullah said that efforts are underway to dig the canal to conserve fresh water for the sake of agricultural production.
Upazila executive officer. Jahangir Hossain said that necessary measures will be taken to dig the canal for the benefit of farmers. - Gofran Biswas Polash