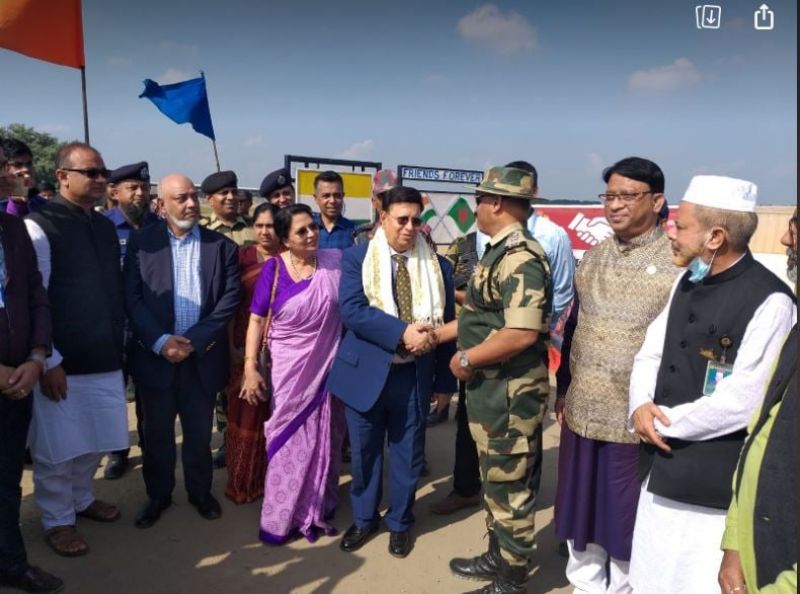 Foreign Minister Dr. A K Abdul Momen today crossed the Shewla Land Port at Sylhet border this morning and reached Silchar of Indian northeastern state Assam to attend the first "Silchar-Sylhet Festival-2022".

After reaching at Sutarkandi border in Indian part, the Bangladesh foreign minister expressed his deep satisfaction and thanked Indian authority for giving him and his delegation a warm welcome, a foreign ministry press release said here.
"After 50 years, I am privileged to cross the Bangladesh-India border through Shewla-Sutarkandi and myself and my delegation are pleased with the cordial welcome they extended to us," Momen said.
The Foreign Minister as a chief guest attended the two-day festival '1st Silchar-Sylhet Festival-2022' which was inaugurated this evening.
On Saturday, the second day of the festival, number of events titled; Panel Discussion on Trade and Commerce, Tribal and Culinary Festival, Panel Discussion on "Our Rivers, Our Water, Our Climate," Festival of Language and Literature are scheduled to be held.
Momen is leading a Bangladesh delegation that comprised with Iqbalur Rahim, MP, Gazi Mohammad Shahnewaz, MP, Mohibur Rahman Manik, MP, former Foreign Secretary Shamsher Mubin Chowdhury, business leaders, political dignitaries and media representatives from Sylhet, reports UNB.