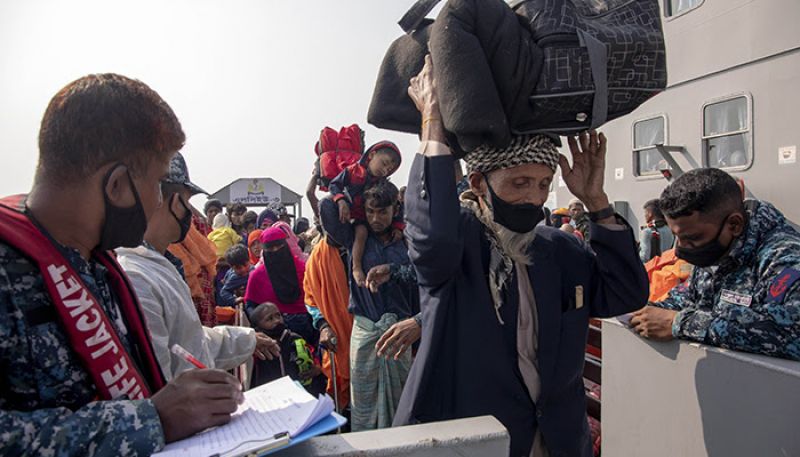 Rohingya refugees at Bhasan Char. HRW

Refugees International's Senior Advocate for Human Rights Daniel Sullivan in a statement on late Wednesday said that the MoU signed between the Bangladesh government and UNHCR on Bhasan Char is a welcome change but questions remain about the safety of moving thousands of refugees to the isolated island and it should ensure relocation is truly voluntary and ensure right of relocated refugees to move back to the main camps. The statement reads:

"The newly signed Memorandum of Understanding between UNHCR and the government of Bangladesh on Bhasan Char leaves much room for skepticism. No doubt, a formal agreement that allows UNHCR monitoring and includes real commitments to protect refugees on the island would be a welcome change. However, serious questions remain about the safety and feasibility of moving tens of thousands of refugees to an isolated island.
Bhasan Char lies in the historical path of cyclones, and its remote location creates challenges for the delivery of humanitarian aid. But most concerning is whether any relocations of Rohingya refugees to the island will be truly voluntary, evidenced by the fact that hundreds of refugees relocated there have already tried to flee.
UNHCR must use its newly formalized role to ensure that these moves are truly voluntary, and must help ensure the rights of relocated refugees to move back to the main camps if they choose. It must also ensure that remaining safety and feasibility questions are answered before any more refugees are relocated.
As Refugees International has warned in the past failure to properly assess conditions and inform refugees about the move will result in policies more akin to detention than refuge.
This agreement should also be a stepping stone toward similar lifting of restrictions for the vast majority of refugees who will remain in the main camps. They too should have access to education, skills-training, and livelihood opportunities made available to those on Bhasan Char." – Press release