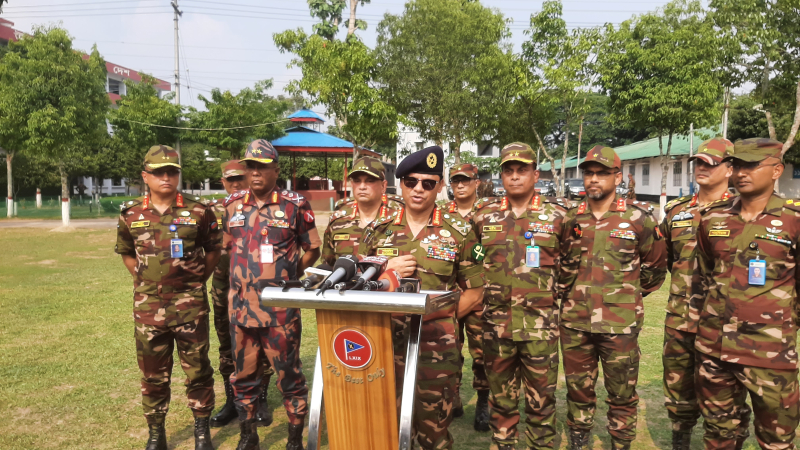 Chief of Bangladesh Army General SM Shafiuddin Ahmed on Sunday said that teams of Bangladesh Army are finding out and capturing the suspected terrorists from their hideouts in different hills and have already succeeded to take control of their main training camp.

"The terrorists are no longer in the area. Some of them mixed with the local people. As the terrorists are also citizens of Bangladesh, we want them to play a role in the socio-economic development of Bangladesh like other citizens."
The army chief made these remarks while speaking with journalists at a briefing after a meeting with higher army officials at Bandarban cantonment.
"We don't want conflict. Bangladesh Army will welcome if the terrorists hiding in the hills want to return to normal life," he said.
Shafiuddin Ahmed said that the Bangladesh Army started an operation in Bandarban as terrorist activities increased at an alarming rate in the hilly areas. "We have lost some of our soldiers in this operation, but that has not stopped our ongoing operations."
"We have continued our operations to nab the terrorists. I have come here today to see the difficulties faced by the junior commanders on duty in Bandarban while conducting the operation," he said, adding that they are assessing what more support is needed to bring full success to the operation.
Mentioning that the operation is almost in its final stages, the army chief said the travel ban on tourists was imposed due to the unstable situation.
The ban will be lifted once the situation calms down completely, he added.
Chief of General Staff of Army Lt Gen Ataul Hakim Sarwar Hasan, Commanding Officer of 24 Infantry Division Major General Mizanur Rahman Shamim and Director General of Border Guard Bangladesh Major General AKM Nazmul Hasan were present, among others, on the occasion, reports UNB.