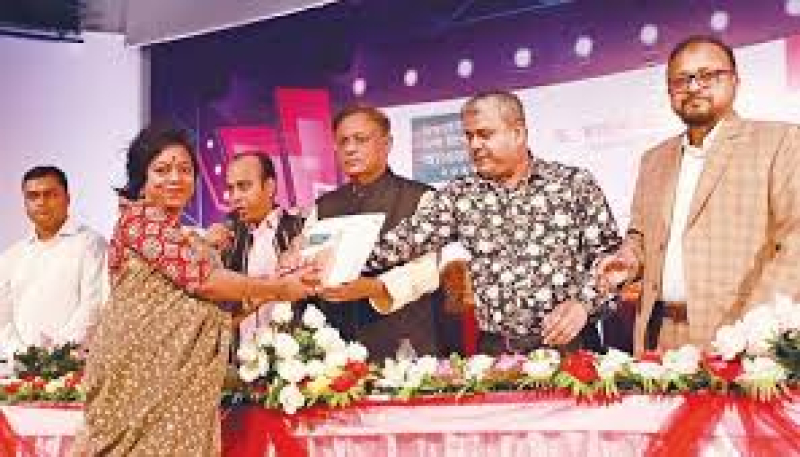 Information Minister Hasan Mahmud gives away best reporters awards on Sunday. Photo collected.

Dr Hasan Mahmud, minister for information and broadcasting said on Sunday that media owners should not interfere with freedom of journalists working in their media houses.
Addressing the Best Reporters' Award ceremony organised by the Dhaka Reporters Unity at the Shilpakala Academy auditorium, he said mediation owners often stop the publication of news items that are critical of their business houses or those of their friends. Even editors, news editors or chief news editors interfere with reporters like this, he said.
The minister said he reads special reports published in newspapers with keen interest and observed, some some news items bring important hidden things to the notice of the people and help resolution of those. In this context he made mention of a report on the life of a hawker who used to pick up vegetables that fall on streets from vegetable laden trucks and sell those to earn a living.
These days business people are organizing media houses as instruments to defend their business. In dooing so they guard guard against the publication of news that they perceive as against their enterprises and those they consider friendly to them. The casualties are important investigative reports.
He agreed with leaders of the DRU that the quality of investigative reports in newspapers and the electronic media has improved. Submission of reports for the contest has however fallen due to awaress about the need for quality to get awards, he said.
Journalists were given awards in 14 categories by the minister amid cheers and clapping from their pofessional colleagues. Presided over by Mursalin Nomani, president of DRU, the function was also addressed by Shahjahan Sardar, head of the jury board of the Best Reporters' Award, Mainul Hasan Sohel, general secretary od DRU and Jalal Ahmed, Sr Vice President of Al Arafa Islami Bank among others. Jury board members Mostafa Kamal Majumder and Monwar Hossain were present
The awardees are Abu Saleh Roni of the daily Samakal, Shahin Akther of the daily New Age, Adnan Rahman of Dhaka Post, Rahim Sheikh of the daily Janakantho, Jahangir Alam of Jagonews, Rahenur Islam of the daily Kaler Kantho, Faruque Ahmed of the daily Jugantor, Faisal Khan of the daily Pratidiner Bangladesh, Arefin Tanzib of Channel-i (online), Mohammad Yousuf (Yousuf Arefin) of the daily Kalbela, Abuoyor Ansar Uddin Ahmed of the daily Samakal, Jhorna Moni of the daily Bhorer Kagoj, Ismail Ali of Sahre Biz, Arifur Rahman of the daily Prothom Alo, Emdadul Haque Tuhin of sarabangla.net, Doulot Akter Mala of the daily Financial Express, Jashim Uddin Harun of the daily Financial Express, Maksud-un Nabi of Channel24, Abu Jahed Md Selim of Masranga TV, and Masudur Rahman of Channel24.
GW News Desk