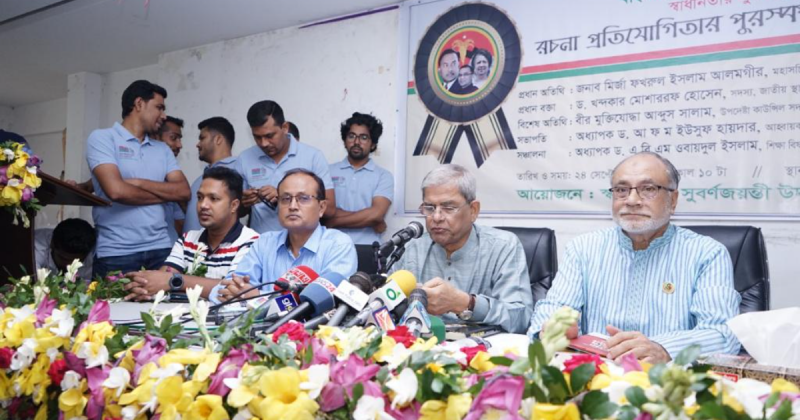 BNP Secretary General Mirza Fakhrul Islam Alamgir on Saturday said that what Prime Minister Sheikh Hasina told the UNGA about war and sanctions doesn't suit her while her government has been indulging in killings and enforced disappearances.

"She (PM) is telling tall stories going abroad. She's saying in America that she doesn't want war and sanctions...but it doesn't suit her mouth. She herself is involved in killings in her country. The government is carrying out killings while more than 600 people have been made disappear," he said.
Speaking at a discussion, the BNP leader also said several hundred people have been taken to police stations and made crippled while over 1,000 people have been killed by resorting to extra judicial killings. "That's why sanctions have been imposed on the elite force, RAB, who had earned reputations in the country in the fight against crime earlier, and on its seven officials for executing the government's unjustified orders."
Fakhrul said sanctions should be first imposed on those who gave illegal orders. "The country's people have given sanctions on them (govt). People are saying they no longer want to see the current regime in power."
BNP's national committee on the celebration of Golden Jubilee of Independence arranged the programme at the Jatiya Press Club.
Earlier on Friday, Prime Minister Sheikh Hasina demanded an immediate end to Ukraine-Russia war and resulting sanctions for the sake of lives and livelihoods of the people throughout the world.
"We want the end of Russia-Ukraine war. Due to sanctions, and counter-sanctions, not a single country, rather the entire mankind including women and children is punished," she made the call while delivering her speech in the 77th session of the United Nations General Assembly (UNGA).
About the murder of Munshiganj Jubo Dal activist Shahidul Islam Shaon, Fakhrul said a section of media are reporting that Shaon was killed by throwing brick chips from behind. "The way media are being regulated, the newspapers don't dare to speak the truth. The fact is that Shahidul Islam Shaon was shot dead. He scarified his blood for the entire nation, not for BNP."
Stating that their party has been carrying out a movement all over the country on public issues, he said four leaders and activists of BNP's different associate bodies, including Shaon in Munshiganj, have already been killed in the movement.
The BNP leader said Shaon sustained bullet wounds in his head as police fired on their party programme in Munshiganj and he succumbed to his injuries at Dhaka Medical College Hospital.
"We're here today with a heavy heart. We've been going through suffering, despair and a terrible terror acts for the last 15 years," he said in an emotional choked voice.
Fakhrul accused the government of completely destroying the history of the Liberation War as the ruling party does not recognise the contributions of most national leaders who played major role in the war of independence.
He also bemoaned that the ruling party always tries to belittle BNP founder Ziaur Rahman by carrying out 'false' propaganda against him, reports UNB.