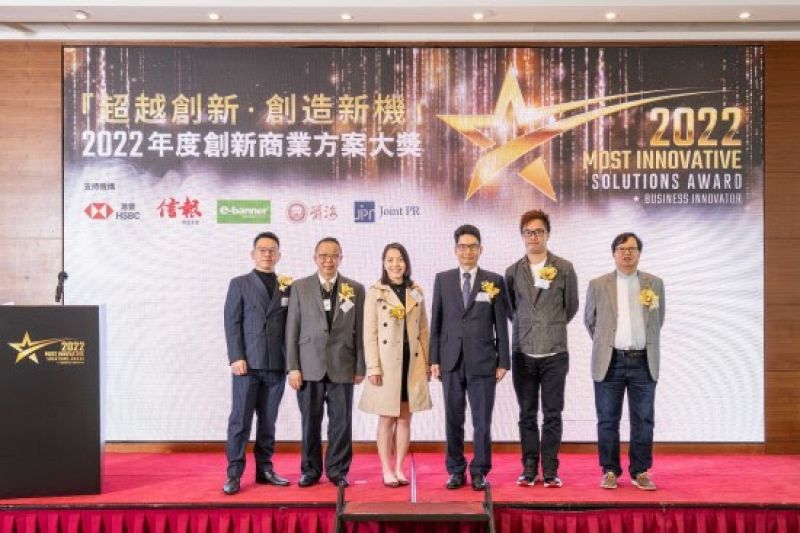 Award Presentation of 2022 Most Innovative Solutions Award

HONG KONG SAR - Media OutReach - 6 February 2023 - 2022 Most Innovative Solutions Award, hosted by BUSINESS INNOVATOR, a business content media platform, was culminated on February 3, 2023 at the Hilton Garden Inn, Hong Kong. More than 60 different awards were presented to commend various innovative services and products in Hong Kong business sector. The award-winning companies from different aspect in Hong Kong sent their representatives to attend the ceremony and shared their strategies and experiences with the guests took part in the ceremony.

In the high pace business world with rapid charging environment, Most Innovative Solutions Award allows more and more members in the industry to understand the entrepreneurial spirit and representative business solutions of the award-winning companies. Entrepreneurs are no longer waiting for business opportunities now. Instead, they take the initiative, seek changes proactively, and strive to create the opportunities for themselves. 2022 Most Innovative Business Solution Award's theme - Beyond Creative, Be Innovative - is exactly in line with the flexibility and pursuit of perfection of the character of Hong Kong entrepreneurs. Innovative Business Solution Award would like to give the credit to the enterprises participating in this award.
In the speech at the awards presentation, Mr. Jingo Chan, Marketing Director of BUSINESS INNOVATOR, said, "In 2023, BUSINESS INNOVATOR will launch the InnoClub membership program, hoping to bring the companies which got their honor and reputation in the previous award to joint force together. We will hold a series of online and offline events to create more opportunities, which creates the synergy among various industries. Through different events, the representatives of the award-winning companies can communicate directly. I believe the InnoClub will definitely bring more business opportunities to the company's business."
In order to commend the companies participating in the "Most Innovative Solutions Award", politics and business experts were invited as the honorable guests for the award ceremony, including Mr. Joseph Chan, Under Secretary for Financial Services and the Treasury, Financial Services and the Treasury Bureau of Hong Kong Special Administrative Region, Ms. Ada Lin, Division Head, Strategy & Innovation, Business Banking, HSBC, Ms. Yvonne Wong, General Manager of Qianhai International Liaison Services Limited, Mr. Kenny Lui, Chief Marketing Officer of e-banner, Mr. Jimmy Wan, Founding Chairman of Hong Kong Greater China SME Alliance Association, and Dr. Edward Lam, the Chairman of Hong Kong SME Development Federation.
The event was also supported by organizations from different sectors, including The Hongkong and Shanghai Banking Corporation Limited, Hong Kong Economic Journal, e-banner, Qianhai International Liaison Services Limited and Joint PR Consultants Limited.
Winners of the 2022 Most Innovative Solutions Award (In Alphabetical Order)
Company Award title
456 Logistics Limited The Best Logistics and Warehousing Solution Services of the Year
7Iron HK The Best Indoor Golf Course Centre of the Year
91APP HK Limited The Most Innovative OMO Integrated E-commerce Solution of the Year
Amazing Gallery Best Art Education Institution of the Year
Animoca Brands The Best Blockchain Technology Investment Company of the Year
ANKH 機能再生 - 痛症健康集團 Best Pain Removal Technologies of the Year
Baker & Bloom Most Outstanding STEM Education Center of the Year
Blossom Massage Boutique The Best Boutique Massage Centre of the Year
Captar Partners The Most Excellent Talent Hunting and Recruitment Services of the Year
cccdi limited The Most Excellence Digital Marketing & E-Commerce Expert of the Year
Champion Goal Education Center The Best Comprehensive Tuition Education Center of the Year
Combined Women's Specialist Clinic Most Excellent Gynaecology Treatment Service Platform of the Year
ConceptFound Technology International (HK) Limited Most Outstanding IT Services Provider of the Year
DB Power Online Limited The Most Outstanding Financial Market Data Solutions Provider of the Year
DLT Global immigration The Best Immigration Service of the Year
EC Stroke Rehabilitation The Best Stroke and Neurological Rehabilitation Service of the Year
Epoch-Tech Computer System Co., Ltd The Most Outstanding ERP Solutions and Consulting Service of the Year
Evabest CPA Limited The Most Outstanding One-Stop Accounting Service of the Year
evMega Technology Limited Most Outstanding One-Stop EV Charging Solution of the Year
Faeries Most Outstanding Women's Health Care Product of the Year
Fame Limpid Design & Construction Limited Most Innovative Design and Construction Service Platform of the Year
Fulbright Financial Group Limited Most Outstanding Financial Services Brand of the Year
Gallant BioTechnology Limited Asia's Most Outstanding Raw Material DNA Test Provider of the Year
Good Time International Play School * Kindergarten The Best International Kindergarten of the Year
Haldanes Most Outstanding Criminal and Matrimonial Legal Services of the Year
Hong Kong Chinese Orchestra The Best Innovative Music Technology Organization of the Year
Hong Kong Dance Company Outstanding Dance and Art Performance Development Service of the Year
Human Parent Academy The Best Child and Parent Online Education Service of the Year
HYGGEWellbeing Most Outstanding Health & Wellness Product of the Year
IGNITE Development Limited The Best Training Courses Platform of the Year
Jetta Company Limited Most Outstanding Innovative OEM Manufacturing Service of the Year
Keep Moving Project Kids Best Children's Fitness Center of the Year
Kiddie Kloud Outstanding Preschool Education Service of the Year
Konrede Limited Most Excellence Art and Design Studio of the Year
La Fleur The Best Professional Floral Design Course of the Year
Langya Tech Most Outstanding Home Office Products of the Year
Les Petites Ballerina Dance Academy The Most Trusted Quality Dance Academy of the Year
Let's Chill Massage The Best Social Enterprise Massage Centre of the Year
Love Pink Peach The Best Multifunctional Bras Platform of the Year
Macros Construction Limited The Best Professional Interior Construction Service of the Year
MakeOmnia Limited Best 3D Printing and Technology Education Services of the Year
Maverick Group Limited Best Regarded Specialist Medical Group of the Year
Multizen Asia Limited Outstanding Commercial Food Industry of OEM Industry of the Year
Neufast Limited The Most Excellence Human Resources Technology AI Platform of the Year
Novias Beauty The Best Eyelashes Services of the Year
O&O Studio The Most Outstanding Innovative Interdisciplinary Architecture Studio of the Year
Octopus Cards Limited The Most Innovative Smart Card Payment System Brand of the Year
Pan Lloyds Group The Best Quality Supplementary Exercise Book Publisher of the Year
PANGU by Kenal Asia's Most Innovative Integrated Metaverse Solution of the Year
Pocina Company Limited The Best Calories Management Meal Replacement Brand of the Year
Queens Beauty & Spa Co Ltd The Best Comprehensive Beauty and Treatment Service of the Year
RAGAZZA Outstanding Quality Jewelry Retail Brand of the Year
Randstad Hong Kong Limited The Best Human Resource Recruitment Service of the Year
Sky Vault Fitness Best and Trustworthy Personal Training Service of the Year
Soar Education Limited Most Excellent Diversified Professional Sports Training Academy of the Year
Spread-it Limited Most Outstanding Micro-Influencer (KOL) Platform of the Year
Studio of SAI limited The Best Urban Architecture and Installation Design Enterprise of the Year
Super Nova Global Trading Limited The Best Healthy Slimming Brand of the Year
Tartes & Pop Best French Cake Shop of the Year
Tat Ming Flooring Company Limited The Best Trusted Quality Flooring Services of the Year
The Aspirers Outstanding Overseas Education Consultancy Service of the Year
The G.O.A.T. Boxing Club Hong Kong The Best Professional Boxing Training Centre of the Year
The Hong Kong Academy for Performing Arts The Best Performing Arts Institute of the Year
UTOPIA Consulting Group The Most Outstanding Investment and Financial Management Specialist of the Year
Valpaint Hong Kong The Most Innovative Decorative and Natural Paints Brand of the Year
Venturenix Limited Most Outstanding IT Professional and Digital Recruitment Services of the Year
Verm City SportChain Most Outstanding Rock-Climbing Gym Centre of the Year
Well Green Energy Technology Company Limited The Best Renewable Energy Technology Enterprise of the Year
Yau Lee Holdings Limited Outstanding Comprehensive Construction Engineering Group of the Year
YesAsia Holdings Limited The Most Innovative E-Commerce Platform of the Year