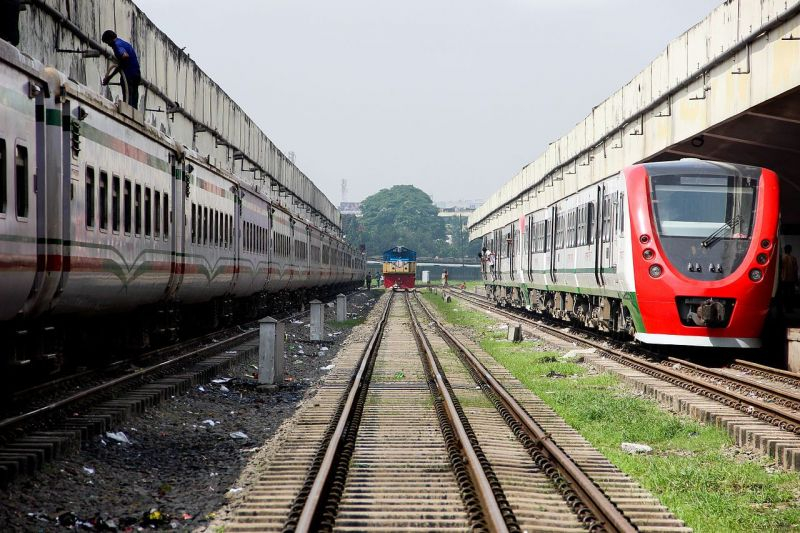 Bangladesh Railway

Jehangir Hussain

CHATTOGRAM, Mar 30: Construction of Dhaka- Chattogram chord line of Bangladesh Railway (BR) is expected to begin in June 2024, BR sources said on Thursday.
Feasibility studies of Dhaka-Chattogram Chordline of BR are due to be completed in the current year.
Railway's chord line in shorter than the main line.
A consortium of Japan's Oriental Consultant Global, France's EGIS and Malaysia's HSS has begun the feasibility studies , said BR sources.
In February, BR appointed the consortium to carry out the feasibility studies and prepare the detailed design of the chord line from Dhaka to Cumilla via Narayanganj.
The Chord line will reduce the distance between Dhaka and Chattogram by 90 km and travel time by one-and-a-half hours, said BR sources.
The consortium will carry out the feasibility studies and prepare detailed design of the chord line in 11 months.
Feasibility studies and detailed design preparation will cost Tk 193.64 crore.
Dhaka-Chattogram chord line construction via Narayanganj was taken in 2010, but due to unknown reasons, BR suddenly stopped the project.
BR had also carried out feasibility studies of the project in 2010.
The distance between Dhaka and Chattogram by train is now 320 km.
The chord line could be used as a dedicated line for passenger transportation keeping the existing line reserved for freight services.
The main station of the proposed chord line will be in Narayanganj with a depot for the rail cars.
The other stations will be at Cumilla, Feni, and Chattogram.
Railway bridges will be constructed across four river, the Shitalakshya in Narayanganj, the Gomti, the Meghna, and the Feni River.
Railway officials said that the chord line will be extended up to Cox's Bazar as Prime Minister Sheikh Hasina had announced.
In 1980, the feasibility studies for laying chord line between Dhaka and Cumilla was completed.
But the was dropped in the 90's.
If the project was implemented then it would be possible to save thousands of crores of Tk.
BR sources said that feasibility studies are underway to set up a high-speed rail line from Dhaka to Chattogram via Cumilla and Laksam.
jehangirh01@gmail.com