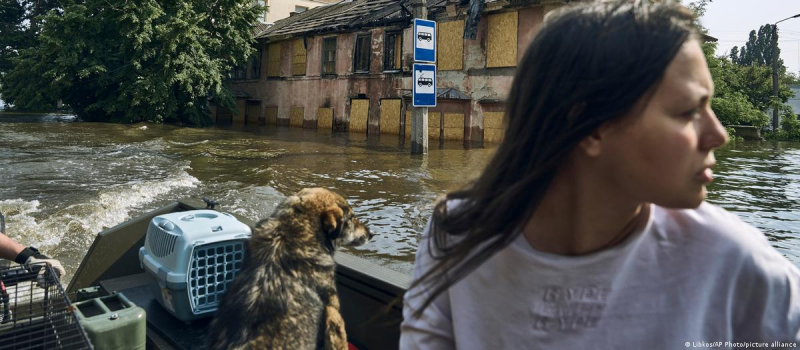 Floodwaters from the collapsed Kakhovka have forced thousands to flee their homes and has caused a humanitarian and environmental disaster

Ukrainian President Volodymyr Zelenskyy said the destruction of the Nova Kakhovka dam had restricted "hundreds of thousands of people" access to clean drinking water.

In a post on Twitter, he wrote that the evacuation was ongoing.
"We are working at all levels of state and local authorities to rescue as many people as possible from the flooded areas," Zelenskky wrote and again blamed Russia for the disaster.
"Russia must be held accountable for this deliberate crime against people, nature, and life itself," he wrote.
Earlier, Ukraine's domestic security service said it had intercepted a telephone call which it said proved a Russian "sabotage group" blew up the dam.
It posted a one-and-a-half-minute audio clip of the alleged conversation on its Telegram channel. DW could not independently verify the recording, and Moscow did not immediately comment on its content.
Russia previously claimed that the dam was destroyed by Ukrainian shelling.
The Nova Kakhovka dam was breached on Tuesday, with both Moscow and Kyiv trading accusations of responsibility for its destruction. Some experts said it might have been due to wartime damage and neglect.
Flooding from the breach extends over 600 square kilometers on the Ukrainian-held side of the Dnieper River as well as the Russian-held side of the river, the governor of the Kherson region earlier said.
Ukrainian Interior Minister Ihor Klymenko said on the Telegram messaging app that four people had died and 13 people were missing in the Kherson region, and that one person had died in the Mykolayiv region.
A Russian-appointed official said eight people had died in Russian-held territory and more than 5,800 had been evacuated from their homes.
The German Red Cross (DRK) meanwhile has sent 13.3 tons of disaster aid to assist flood victims. Supplies include water and hygiene kits to address the increased risk of illness due to contaminated water. 
"During floods, there is an increased risk of falling ill from contaminated drinking water and a lack of sewage treatment," DRK spokeswoman Rebecca Winkels told the German news agency dpa.
The supplies will be handed over to the Ukrainian Red Cross for distribution, reports DW.