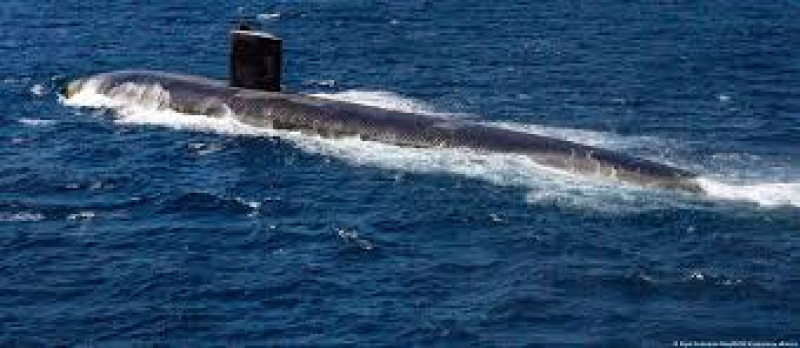 Speaking at Conservative Party conference in Manchester, UK Defense Minister Grant Schapps on Sunday announced the finalization of a £4 billion ($4.9 billion, €4.6 billion) contract with BAE Systems to commence work on a new nuclear-powered AUKUS attack submarine.

Plans for the ambitious international defense project between Australia, the UK and the US were initially announced in March.

As part of the so-called AUKUS (Australia-UK-US) security pact, the partners will supply nuclear submarines to Australia beginning in the early 2030s in an attempt to counter growing Chinese military ambitions across the Indo-Pacific.

"This multi-billion-pound investment in the AUKUS submarine program will help deliver the long term hunter-killer submarine capabilities the UK needs," Schapps said.

First subs to be made in UK, then Australia
The UK has shifted its focus to the Indo-Pacific region, both in terms of its security posture and trade relations, in the wake of Brexit.

BAE Systems, the UK's largest arms manufacturer, said the funding announced Sunday would flow until 2028, meaning it could begin detailed work on the project.

"This funding reinforces the Government's support to our UK submarine enterprise and allows us to mature the design, and invest in critical skills and infrastructure to support our long-term national security," said BAE Systems Chief Executive Charles Woodburn.

The company says it will begin making the new nuclear sub late this decade and begin delivery at the end of the 2030s.

Until then, the US and the UK have committed to stationing a rotating presence of nuclear subs in Australia as it frets over Chinese ambitions in the region.
The first subs will be built in the UK, with further production moving to Australia in the 2040s.
AUKUS security pact irks friend and foe alike
Canberra, London and Washington first announced the AUKUS security alliance on September 15, 2021, saying it would encompass areas of activity such as artificial intelligence, cyber mechanisms, electronic warfare, counter-hypersonic, quantum technologies and undersea capabilities.

China has derided the pact for its "Cold War mentality."

The defense treaty is separate from the Five Eyes intelligence pact that also includes Canada and New Zealand.

The creation of the alliance prompted a rift between France and Australia, which had previously promised to purchase €56 billion worth of nuclear subs from Paris.

Canberra, which cancelled the contract without notice — prompting Paris to recall its ambassador after what French Foreign Minister Jean-Yves Le Drian called a, "stab in the back" — later agreed to pay €555 million in damages to French defense contractor Naval Group for the reversal, reports DW.