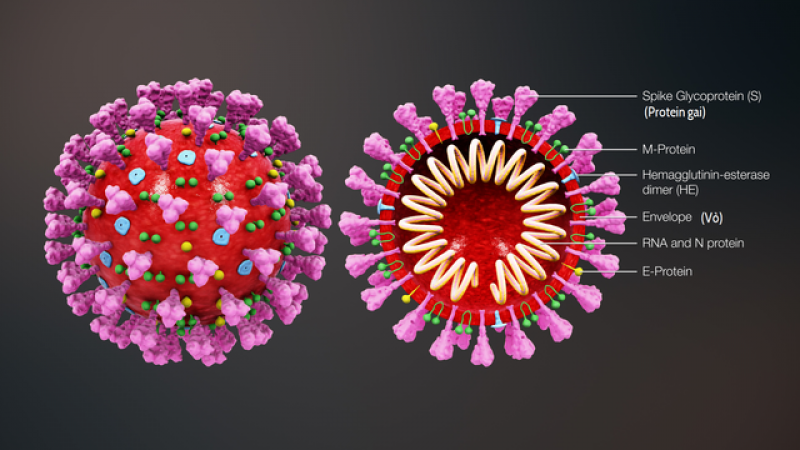 Corona virus. Creative Commons

Dhaka, Mar 9 -- The overall number of Covid cases has surged past 449 million as the pandemic enters into its third year.

According to Johns Hopkins University (JHU), the total case count mounted to 449,516,623 while the death toll from the virus reached 6,013,873 Wednesday morning.
Despite vaccine availability, the United States is nearing one million reported deaths on its own, the biggest official death toll in the world, reports AP.
The US has recorded 79,369,007 cases so far and 961,843 people have died from the virus in the country, the university data shows.
India's Covid-19 tally rose to 42,971,308 on Tuesday, as 3,993 new cases were registered in 24 hours across the country, as per the federal health ministry data.
Besides, 108 deaths from the pandemic since Monday morning took the total death toll to 515,210.
Meanwhile, Brazil, which has been experiencing a new wave of cases since January last year, registered 29,152,318 cases as of Tuesday, while its Covid death toll rose to 653,134.
Global vaccine disparity continues, with only 6.95% of people in low-income countries fully vaccinated, compared to more than 73% in high-income nations, according to Our World in Data.
Situation in Bangladesh
Bangladesh reported seven more Covid-linked deaths with 446 fresh cases in 24 hours till Tuesday morning amid the declining trend in infections and fatalities.
The daily positivity rate slightly increased to 2.23 per cent from Monday's 2.18 per cent after testing 19,964 samples during the period, according to the Directorate General of Health Services (DGHS).
On Monday, Bangladesh reported four Covid-linked deaths with 436 fresh cases.
The fresh numbers took the country's total fatalities to 29,096 and the caseload to 19,48,148.
Among the new deceased, five were men and two were women. Six of the deaths were reported from Dhaka division and one from Sylhet division.
Meanwhile, the mortality rate remained unchanged at 1.49 per cent.
However, the recovery rate rose to 94.96 per cent with the recovery of 3,062 more patients during the 24-hour period.
On January 28, Bangladesh logged its previous highest daily positivity rate at 33.37 per cent reporting 15,440 cases and 20 deaths.
On December 9 last year, Bangladesh logged zero Covid-related death after nearly three weeks.
The country reported first zero Covid-related death in a single day on November 20 last year, along with 178 infections, since the pandemic broke out in Bangladesh in March 2020.
Besides, the country registered the highest daily caseload of 16,230 on July 28 last year, while the highest number of daily fatalities was 264 on August 10 last year. - UNB