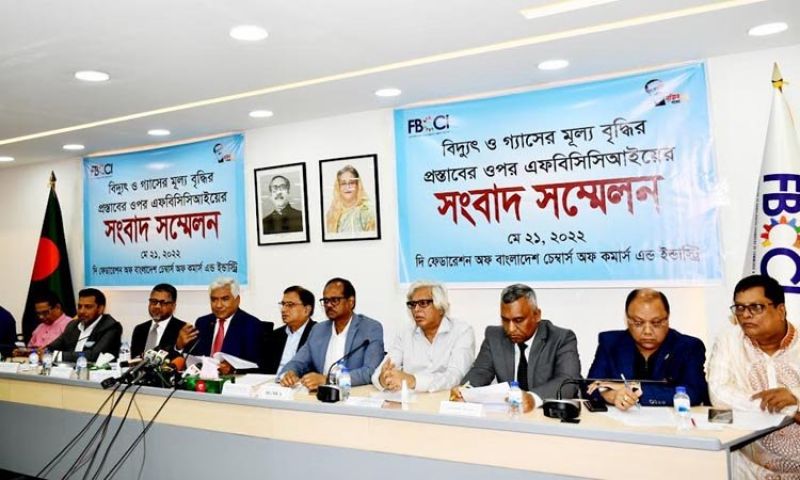 President of the Federation of the Bangladesh Chambers of Commerce and Industry (FBCC)) Md. Jashim Uddin today urged the government to postpone the process for increasing prices of electricity and gas.

"This is not the right time to raise the power and gas prices. It would be suicidal for the economy" he mentioned.
The FBCCI President made this remarks at a press conference held at the FBCCI today.
The FBCCI noted that the COVID-19 pandemic and Russia-Ukraine war raised the price of raw materials in international market, and businesses have to pay extra cost for shipping and transportation. Besides, the cost of doing business is already high in the country and thus, it is becoming difficult to remain competitive for the export-oriented sector.
The FBCCI chief said as the economic impact is not properly considered in the price hike proposal, so, it should not be taken into consideration according to the BERC law.
"The Current world situation hits the oil market and based on this temporary trend, government should not increase the price of the power, rather, mitigate the challenge with Energy Fund", he suggested.
Jashim also called for preparing a 20-year roadmap for ensuring cheap, uninterrupted and sustainable electricity to attain the SDG-7.
FBCCI Director and BCI President Anwar Ul Alam Chowdhury (Parvez) said that during this currency crisis, capacity enhancement of local industry is much needed. "Textile industry will be destroyed if electricity price is increased, which will be self-destructive decision for the country."
FBCCI Director and BTMA President Mohammad Ali Khokon said that the proposal of price hike of gas and electricity is being made to embarrass the government.
Executive President of BKMEA Mohammad Hatem claimed that the export sector is reviving and the price rise of power and gas will hamper the process.
BSMA president Manwar Hossain, NASCIB President Mirza Nurul Ghani Shovon, REHAB President Alamgir Shamsul Alamin also spoke at the press conference.
FBCCI Senior Vice President Mostofa Azad Chowdhury Babu, Former First Vice President Mohammad Ali, Vice Presidents Md. Amin Helaly, Salahudidn Alamgir, Md. Habib Ullah Dawn and other Directors were present, among others, at the event, reports BSS.