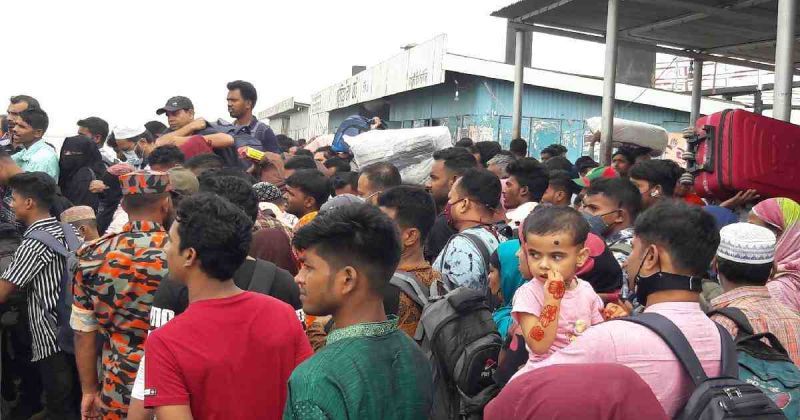 Heavy pressure of passengers at Paturia Ferry Ghat on Saturday.

The week of Eid holidays is over. It however will take at least another week for life to come back to normal ending the holiday hangover. Government and some private offices opened on Thursday, some others on Saturday. All offices are expected to resume functioning on Sunday. If the past is any guide, attendancc is likely be thin in the first week. Let things be as they are after the Eid-ul-Fitr, the biggest festival of Muslims in Bangladesh.

There are various guesstimates about the number of people making trips to village homes to celebrate Eid with relatives and neighbours. The media has reported that according to telephone operators 7 million of their subscribers have moved from capital Dhaka to other parts of Bangladesh during the Eid vacation. It cannot be said that each such subscriber represents one family because in present day Bangladesh more than one member of the family use mobile phone. Again, many people live in mess houses singly, and they represent a sizeable proportion of the people who move to rural areas to celebrate the festival with relatives and friends.
The return journey has begun. Office-goers who were granted leave of absence untill Thursday May 5 were back to the capital on the night before. Those who got vacation until Saturday May 7 were back on Friday. The real pressure of Eid-goers back to the capital started on Saturday as most offices shall open on Sunday. Rush of passengers was reported at different ferry terminals launch ghats and trains.
The Eid-handover is noticed not merely in offices and factories but also in the rest of the society. Markets remain mostly closed. Kitchen markets haven't yet started functioning. Vegetable items, fishes and meats are available only at departmental stores. Sweetmeat shops made brisk business during the festival in the metropolis. People who visited friends and relatives usually carried sweets or curd with them. Icecreams and children's favourite candies plus soft drinks were also in high demand. People look forward to the resumption of normal cores of life and with these the noises and the traffic congestion that are parts daily life in the capital of 25 million people.