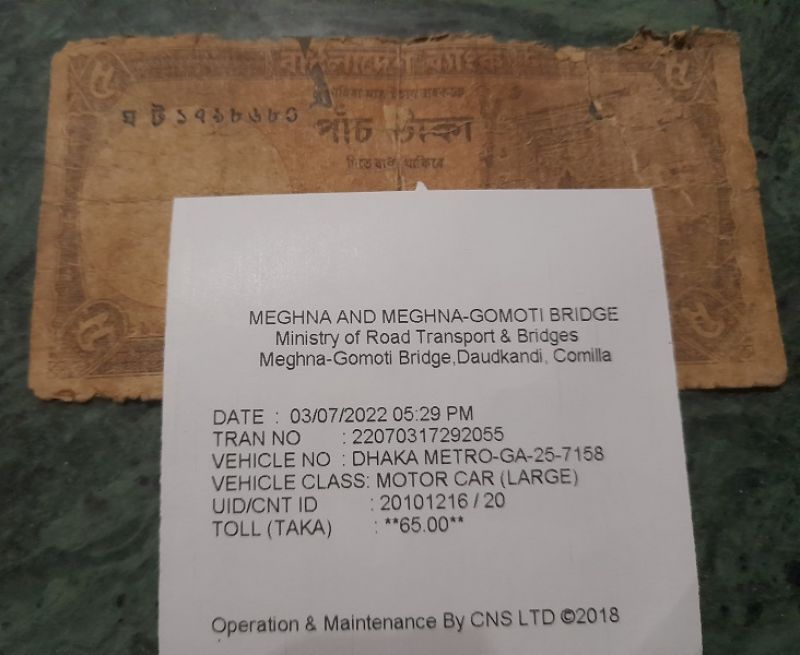 The torn currency note and the toll receipt

Owners or drivers of motor vehicles passing through the Meghna, Meghna-Gumti Bridges should be careful while paying toll because the people sitting in the counters often deceive people by giving torn currency notes while returning remainder of a big currency note.

I had some such experience before. But on Sunday I was stunned to receive a Taka 5 currency note from the last counter at the left while entering the Meghna-Gumti bridge. I was talking over the phone and did not realise instantly that the man at the counter gave be the folded torn note along with the toll receipt.
It's not a huge amount of money, but one has to go to a back which changes torn notes to encash the note. Why this deception from the employees of the leasee of the bridges. If one manages to go back and check with the man counter concerned who knows what answer one would get. But this practice is most unbecoming from a business of such a scale.
Tens of thousands of motor vehicles cross these two bridges daily. Since I have expereinced such a type of behaviour on more than one occasion, I believe many others have likewise become victims. But the issue should be brought up for discussion in public. Because such nuisance if very uncalled for.
For the benefit of readers May I give a photo of the torn currency note along with the toll receipt that was given by a toll plaza counter man.
A concerned citizen
Dhaka