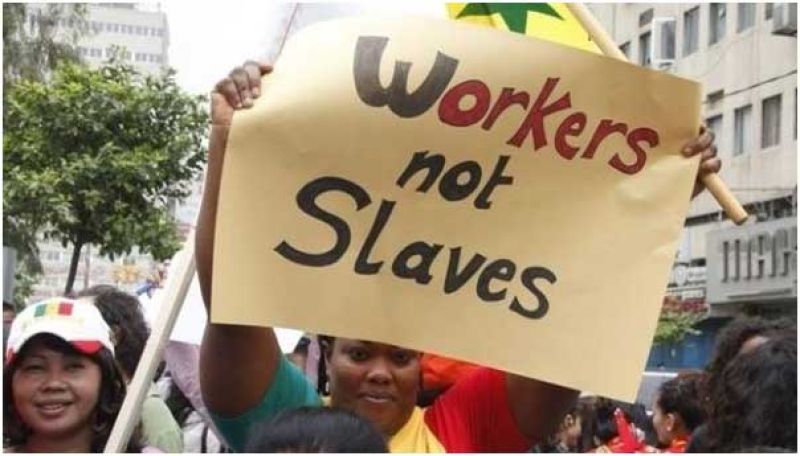 Migrant-Workers_not slaves

Again, the month of December has come marking the glory of our 50th Victory Day. We have overcome so many challenges within these 50 years. Especially, in our long road in the fight against poverty, we have achieved some significant progress. Indeed, in this journey to development, our migrant workers are playing an important role. With their hard-earned remittances, they are not just contributing to their families but also to the societies by harnessing their knowledge, network, and skills. On this International Migrants Day, we take a moment to recognize and honor the immense contribution of the migrant workers and share our stand with them.

Overall, the pandemic-stricken year 2021 does not give a happy vibe of the migrant workers. Being a migrants' rights organization, we directly observe their feelings and sufferings throughout the time. In the landscape of Covid-19, they were exposed to situations that led to their uncertainty about receiving due wages, and protections from exploitation, abuse and forced labor. The pre-existing problems with the overseas labor migration practices have also been intense. As a consequence of job loss, employment insecurity and lack of social protections, many migrant workers had to return prematurely. Consequently, what we see from our various research is that they had to exhaust their savings or take out loans upon return. Potential migrant workers who incurred large debts to facilitate their migration have also been unable to repay those loans. On the other hand, due to the worldwide travel restrictions, many migrant workers who returned home on vacation failed to return to their workplaces. Thus, being unable to find their sustainable livelihoods in the country, migrant workers of various status are now passing their days in the utmost uncertainty. Reintegration packages are largely insufficient to meet their diverse needs.
Amid the pandemic, the cost of air tickets and overall recruitment fee also exponentially increased causing heightened insecurity for future migration. We also see a serious level of mismanagement regarding the issue of vaccination of the migrant workers. The two-step registration process through 'Ami Probashi App' at BMET and then through Surokkha App was nothing but a complex one. The situation has also been compounded by the fact that the destination countries often require certain vaccines. Neither Saudi Arabia nor Kuwait, two of the most common destinations for Bangladeshi workers, recognize the Chinese-made Sinopharm vaccine, which the country largely relies upon for mass vaccination. The government's decision to inoculate the outbound migrant workers with Pfizer vaccine at seven hospitals in Dhaka also did not consider their convenience. On top of that, the mandatory quarantine of the migrant workers upon their arrival at the destination countries added to their financial plight. Thanks to the government's decision, although it was late, the allocation of BDT 25,000 to the migrant workers as a quarantine fee has somehow lessened their worries. Same goes also with the decision of installing the RT-PCR lab at the airport for facilitating Covid-19 test within six hours before boarding the plane.
While migrant workers were going through hundreds of troubles during this pandemic-stricken year, we haven't seen much of the roles of the destination countries. Rather in terms of their contract renewal or payments issues, their governments often seemed to be laxing to take action against the employers and protect workers' rights.
Regarding migration inflow, many countries are yet to receive workers from Bangladesh in a large number at present.
We hope the international labor market situation will improve soon if we don't have to deal with the heavy blow of the pandemic anymore. But it is quite unlikely that the migrant workers' situation will improve soon unless the recruitment process is fully regularized and governments, policy makers and businesses commit to ensure safer migration. Creating a supportive environment for them is a must to address the pandemic's impact on their lives and livelihoods. As a starting point, we also need to address economic hardship, gender-based violence and climate change vulnerabilities that often result in unsuccessful migration. On this International Migrants Day, we call on the government of Bangladesh to ensure the following steps for migrant workers' wellbeing:
• Ensure access to social and financial protections at home, including comprehensive reintegration packages, in order to prevent migrant workers from being pushed into situations of exploitation, and forced labor in the absence of decent work or livelihood options.
• Open dialogue between Bangladesh and destination countries to establish a grievance mechanism system and protect migrant workers' rights, and recover their unpaid salaries and other benefits.
• Acknowledge the presence of subagents in the recruitment chain by developing a new provision in the Overseas Employment and Migrants Act 2013 which holds them accountable for their role together with the licensed recruiting agents.
• Bangladeshi consular services in destination countries should provide easily accessible rights-based support and services for migrant workers through adequate mechanisms and resources for receiving and processing both judicial and non-judicial complaints.
• Address the drivers of migration holistically. While recognizing the multiple factors involved in a decision to migrate, investment should be made in measures promoting good governance of employment, access to demand-driven skills for the provisions of social protection.
• Ensure that the voices and lived experience of migrant workers and affected communities are central to the design and delivery of the laws, policies and programs that impact them. – Press release