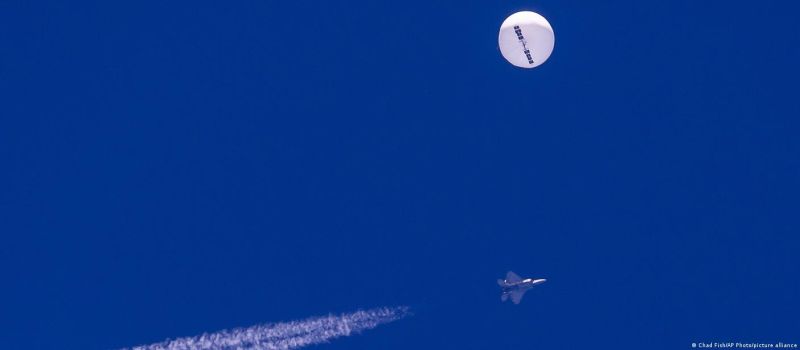 The US and China exchanged words about a suspected Chinese spy balloon as military officials revealed other incursions. US officials said the downed craft was massive in size.

The quarrel between Washington and Beijing over the incursion of a Chinese balloon into United States airspace continued on Tuesday.
The suspected surveillance balloon was shot down off the South Carolina coast on Saturday after a days-long journey across the US mainland.
When asked on Tuesday whether Beijing had asked the US to return debris from the balloon, a Chinese foreign ministry spokesperson said it belonged to China.
"What I can say is that this airship belongs to China and not the United States," the spokesperson, Mao Ning, told a regular news briefing. "This balloon is not American. The Chinese government will continue to defend its legitimate rights and interests," she added.
The US Coast Guard has imposed a temporary security zone in waters off South Carolina during the military's search for debris from the balloon.
US President Joe Biden said the plan was always to shoot it down.
"We made it clear to China what we're going to do," he said. "They understand our position. We're not going to back off. We did the right thing, and it's not a question of weakening or strengthening - it's reality."
Beijing condemned the shooting down of the balloon as an "obvious overreaction" and urged Washington to show restraint.
White House national security spokesperson John Kirby said the balloon's flight over the United States had done nothing to improve already tense relations with China.
He dismissed Beijing's contention it was for meteorological purposes.
US Secretary of State Antony Blinken postponed a planned trip to Beijing over the weekend when news of the balloon became public.
Kirby said Blinken would seek to reschedule his trip.
White House press secretary Karine Jean-Pierre said the US approach to relations with China would remain calm.
"It's up to China to figure out what kind of relationship they want," she said.
General Glen D. VanHerck, who oversees the US military's North American Aerospace Defense Command, said that at least three times during the Trump administration and at least one other time during Biden's time as president, balloons have crossed American airspace.
He added intelligence sources "made us aware of those balloons" after they had left US airspace."
"I will tell you that we did not detect those threats. And that's a domain awareness gap that we have to figure out." VanHerck said.
He said the downed balloon carried a payload that he would "categorize... as a jet airliner type of size, maybe a regional jet."
He added debris from the balloon was spread on the waters over "15 football fields by 15 football fields square.'' A US football field is 100 yards (91 m) long.
US Senators would receive a classified briefing on the balloon situation on Tuesday, Majority Leader Chuck Schumer's office said.
National security adviser, Jake Sullivan, said the US was "still piecing through'' which Chinese officials knew what about the balloon and would wait to speak publicly about China's intentions.
Chinese balloon sighted over Costa Rica
China apologized to Costa Rica for a balloon that flew over its territory, the Central American country's government said late on Monday.
According to Costa Rica's foreign ministry, China's Embassy in San Jose "apologized for the incident" while insisting the balloon was focused on scientific research, mainly weather studies.
It wasn't immediately clear whether the aircraft was the same one that was spotted over Colombia on Friday, reports DW.