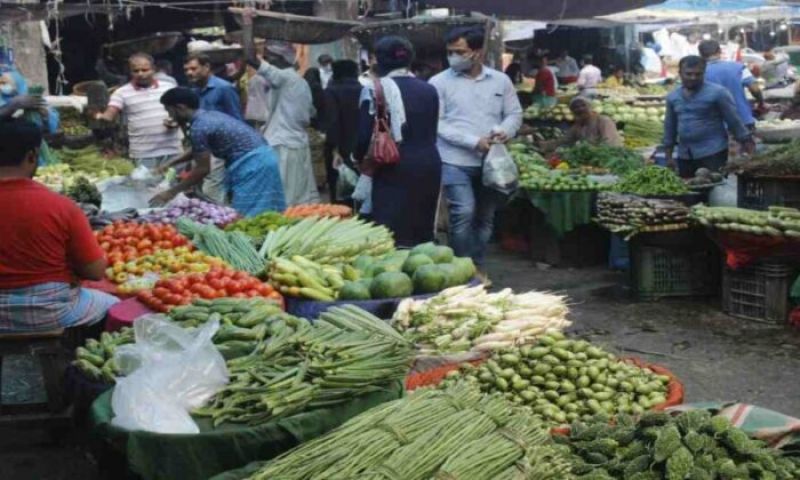 Dhaka, April 3 – Dhaka dwellers crowded kitchen markets for panic buying after the government announced a countrywide 'lockdown' for seven days from April 5-11 to tackle the second wave of COVID-19. Awami League general secretary Obaidul Quader first disclosed the lockdown on Saturday and added that industries will remain open on conditions.
According to the Directorate General of Health Service, the COVID-19 killed 58 more people while 5,683 new cases were detected in the country in the 24 hours ending on Saturday morning. With the new figures, Bangladesh so far counted 9,213 COVID-19 deaths and 6,30,277 cases,
Consumers said they were purchasing more ahead of lockdown and the month of Ramadan fearing a supply crunch in the market.
"As the lockdown is coming again due to coronavirus, the prices of essential commodities can go up in the market. So I purchased several items today," Kabir Hossain, a resident of Banasree said.
"Today I bought a five-litre bottled soybean oil at Tk650 and medium quality oil at Tk58 per kg. Besides, I purchased patal, ladies finger and aubergine at Tk60 per kg which increased by Tk5-10 a kg," he added.
Shopkeepers said the prices of vegetables, rice, and edible oil went up due to increased demand.
Saikot Ali, a shopkeeper of Meradia kitchen market said he received an extra pressure from customers on Saturday after the lockdown announcement.
"Today we are selling per kg coarse rice at Tk45-50 and fine rice at Tk58-65. Besides, loose soybean oil was sold at Tk120 and palm oil at Tk115 per kg. The prices went up due to supply crunch," he said.
According to the state run Trading Corporation of Bangladesh (TCB), the price of coarse rice increased 2.20 percent compared to last week while the price of a five-litre bottle of soybean oil rose 0.79 percent.
"The prices of each kg anchor pulses increased 8.43 percent, flour 4.29 percent, potato 5.88 percent, garlic 9.09 percent, local ginger 17.65 percent and imported ginger 10.53 pc compared to last week," the data showed.
Meanwhile, the price of each kg broiler chicken came down by Tk10 that was selling at Tk170 last week. Broiler was sold for Tk120-130 a kg in the previous month. – UNB