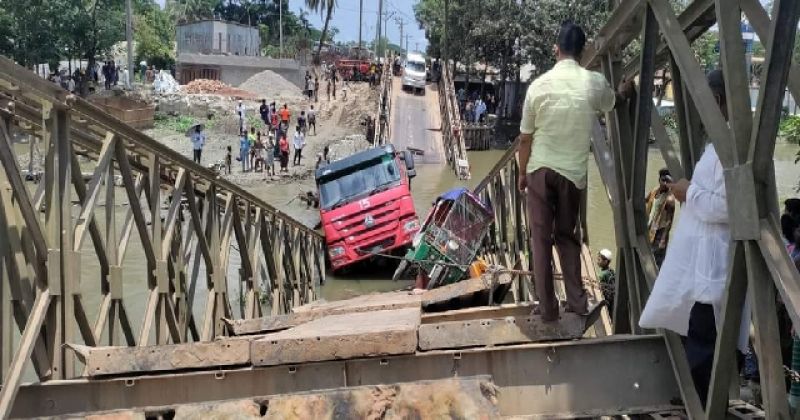 The bailey bridge collapsed with a stone-laden truck and several other vehices in Bhola on Tuesday. UNB

Bhola, May 17 -Three people were injured when a bailey bridge in Lalmohan upazila of Bhola collapsed with a stone-laden truck and several other vehicles on Tuesday.

Locals said the Roads and Highways Department is constructing a new girder bridge over a canal in Daori Bazar area of the upazila and a temporary bailey bridge was built next to the under -construction bridge for traffic movement.
The bailey bridge collapsed into the canal around 11 am when a stone-laden truck and some other vehicles were crossing the bridge, leaving three people, including the truck driver, injured.
On information, police and fire fighters conducted a joint operation to salvage truck and other vehicles.
Meanwhile, traffic movement on Bhola-Char Fashion road has been suspended due to the collapse of the bridge, forcing people to cross the river by boat.
Md Nazmul Islam, executive engineer of Roads and Highways Department, said the bridge will be repaired by Wednesday.
The present width of the 94 km long regional highway from Bhola Sadar upazila to Baburhat of Char Fashion is about 18 feet. It is being widened to 30 feet. For the development of the road, four bridges and 43 culverts are being reconstructed. - UNB