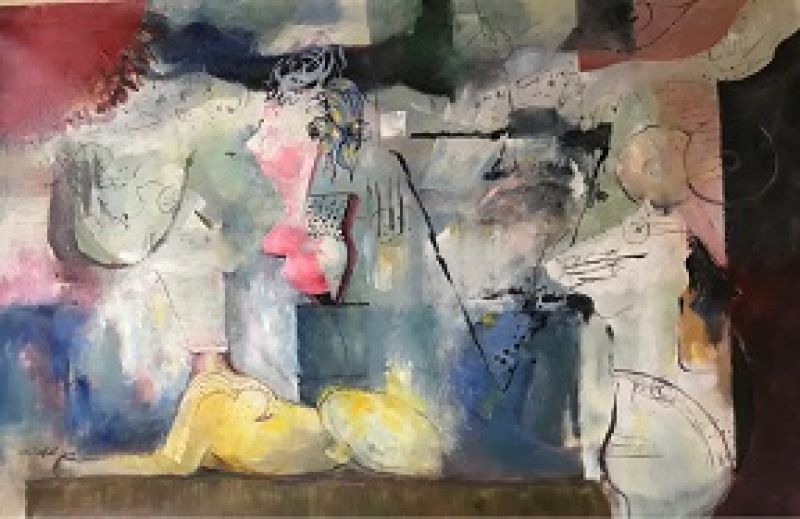 A painting of the 8th solo show of Liakat Ali at Alliance Francaise, Dhaka beginning August 5.

The opening of the eighth solo painting exhibition titled 'Rhythmic Abstraction' by Liakat Ali. The opening ceremony of the exhibition will be held on Friday, 5 August 2022 at 5:30 pm at its La Galerie.
HE Ito Naoki Ambassador of Japan to Bangladesh will attend the event as the chief guest while prof. Mostafizul Haque, Faculty of Fine Art, University of Dhaka, A. S. M. Feroz MP, former chief whip of the Bangladesh parliament and Md Sultan Mahmud, prosecutor, International Crimes Tribunal-1, Bangladesh will also attend the event as the special guests.
There are around 30 paintings to be on display for the exhibition.
The work of Liakat Ali has been exhibited in solo and group exhibitions in the Japan, Canada, UK,China, USA and Bangladesh. Liakat completed his BFA from China National Fine Arts Academy, Hangzhou in Drawing and painting. Artist Liakat Ali's work desire to search of harmony in his abstract presentation. His 8th solo art exhibition " Rhythmic Abstraction" has come to us through a new lens.
Artist Statement: 'The wish to find compatibility in my abstract, sometimes felt like fantasy. That is likely to result in an abstraction. People's happiness is one kind of musical ornamentation; music and heart are filled with joy. When I drew my painting 'Shongitmoy Mon", it was the beginning of my painting life. You can find the taste of imaging within a painting. The mood of the painting makes the image much more attractive and the music can give a new mood to the images which can be a new style to the abstract images in the contemporary platform, which looks like rhythmic abstraction.'
The exhibition will be open to all till 13 August 2022.
Visiting Hours: Monday to Saturday from 3:00pm to 9:00pm. Closed on Sunday.- Press release