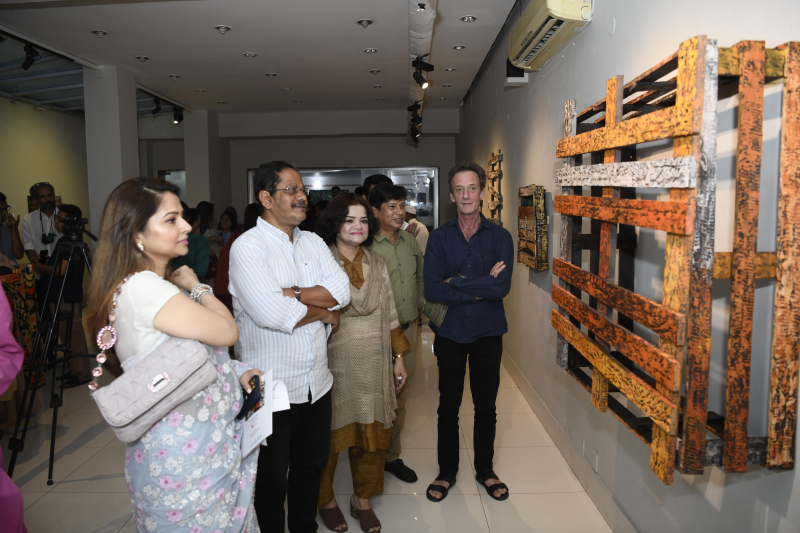 The sixth solo art exhibition of Sarkar Nahid Niazi began at Alliance Francaise, Dhaka on Friday.

Sarkar Nahid Niazi's sixth solo art exhibition, titled 'Manyfestation,' is now open at La Galerie, Alliance Française de Dhaka. The inaugural ceremony of the exhibition was held on Friday, 02 June 2023.

Prof. Shishir Bhattacharjee, Department of Drawing and Painting, Faculty of Fine Art, University of Dhaka attended the event as the special guest while Nadia Samdani, President of Samdani Art Foundation was present as the guest of honor.
In her work, Sarkar Nahid Niazi attempts to give a new life to old, worn, and rusty systems around us. With a touch of aesthetics, she transforms the old into a new form. Through the use of color and texture, she transforms solid and insipid materials such as wood into lively and interesting subjects. The artist enjoys presenting the new and the beautiful things through her work. Sarkar Nahid Niazi defines the boundaries of her art by the use of color and form. This artist's works reveal that her art is both rhetorical and realistic at the same time. They are made to build relationships. As Nahid's artworks create a relationship between utility and aesthetics, they also help to see the relationship between art and real life in a new light. This duality will make it possible for the viewer to experience the materiality and epistemology of this contemporary artist's work.
There are around 25 artworks in this exhibition. The medium she used is painted in acrylic on canvas, wood and carton (box).
'Manyfestation' is Nahid Niazi's 6th solo art exhibition. The artist participated in five solo exhibitions and about 20 group exhibitions at home and abroad.
The exhibition will be open to all till Tuesday, 13 June 2023.
Visiting Hours: Monday to Saturday from 3 pm to 9 pm (closed-Sunday). – Press release