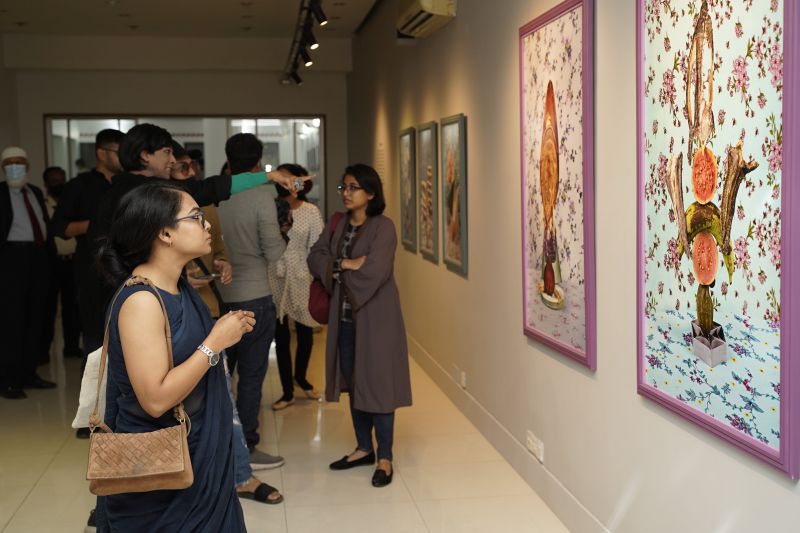 Solo exhibition Tongue-Tied at AFD

A solo exhibition titled Tongue-Tied by Habiba Nowrose has begun at La Galerie, Alliance Francaise de Dhaka. The opening ceremony of the exhibition was held on Friday, 25 February 2022.

Gilles Garachon, Chargé d'Affaires, Embassy of France in Bangladesh attended the opening ceremony as the chief guest.
About the Exhibition Tongue-Tied
We as Bengalis enjoy eating 'Shutki', 'Vuri', 'Motka', 'Moa', 'Hawai Mithai' but would rarely admit that in public. There is an element of discomfort and inferiority in admitting that we enjoy these traditional Bangladeshi foods. These foods are rooted in our cultural identity. These foods do not fall under the category of global commercial "cool" "innovative" food culture that we are familiar with. Neoliberal economy contributes to cultural homogenization and devaluation of traditional culture. This impact is felt on traditional food culture as well. My work 'Tongue Tied' tries to address the stigma around appreciating traditional Bangladeshi food. During the second lockdown, I collected some of these foods and immersed myselt in making sculptures. At times they took the form of a talisman and sometimes a strange device made in a lab in the 1900's. In my imagination, they appeared as the pomegranates inside which the life of the monster from a fairy tale is hidden, as the fish swimming in the lake of miraculous power, and sometimes as the doves who can foretell future.
Habiba Nowrose is a visual artist. Gender, identity and mythology are three key areas of her interest. She has been practicing studio-based photography since 2014. Habiba completed her graduation in Women and Gender Studies from the University of Dhaka in 2012. Later, she did a 3-year Professional Programme on Photography from South Asian Media Institute, Pathshala in 2014. As part of this program she participated in an exchange program at Danish School of Media and Journalism, DMJX. Habiba is currently teaching Visual Anthropology at Pathshala. Her work 'Concealed' was a finalist for the 2018 Invisible Photographers Asia Art Awards and Samdani Art Award 2020. Her works have been exhibited across different platforms in home and abroad. Her work has been published in BBC World service, Vice Asia, Voice of America, The Hindu, Vogue India and others.
After the inaugural ceremony, the exhibition was opened to all till Thursday, 10 March 2022. Hours: Monday to Saturday from 3 to 9 pm. – Alliance Fraicaise press release