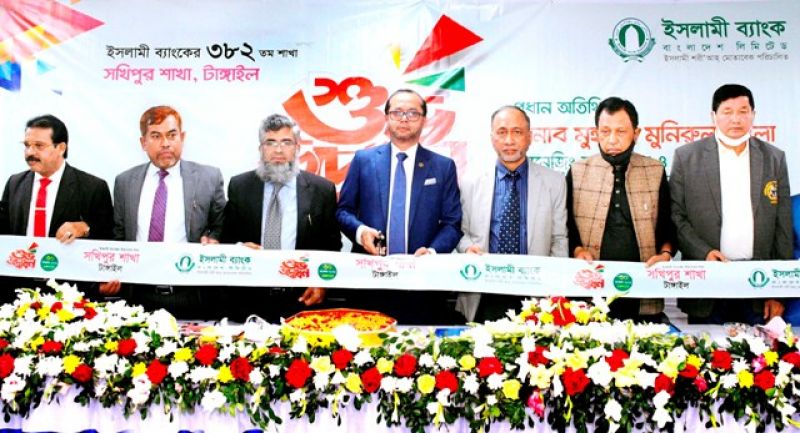 IBBL Photo

Islami Bank Bangladesh Limited inaugurated its 382 nd Branch at Sakhipur in Tangail on 30 November 2021, Tuesday. Mohammed Monirul Moula, Managing Director and CEO of the bank inaugurated the Branch as chief guest. J.Q.M. Habibullah, FCS, Deputy Managing Director of the Bank, Julfikar Haider Kamal, Chairman, Sakhipur Upazila Parishad and Md. Abu Hanif Azad, freedom fighter & Mayor, Sakhipur Pourasabha addressed the program as special guest. Md. Mahboob Alam, Senior Executive Vice President of the bank presided over the program while Bashir Ahamed, Head of Mymensingh Zone of the bank addressed welcome speech and Mohammed Rafiqul Islam, Manager, Sakhipur Branch thanked the audience. Rafik-e-Rasel, Md. Renubar Rahman & Muslima Khatun, educationists, Krishna Karmakar, businessman and Md. Khalilur Rahman, President, Sakhipur Bazar Banik Bohumukhi Somobay Samity addressed the program on behalf of clients and well-wishers.

Executives and employees of the bank, clients, well wishers and local elites were present on the occasion. Later, CRM booth of the branch was also inaugurated.
Mohammed Monirul Moula in his speech of chief guest said that Bangladesh is of one of the countries of fastest growing economy in the world. In response to the ongoing Covid-19 pandemic, the Bangladesh government has announced 28 incentive packages worth Tk.1.35 trillion of which IBBL invested highest amount. More than 1100 garment industries, one thousand textile industries and more than 25 hundred agro-industrial factories of the country have been established with the direct investment of Islami Bank. Apart from playing a leading role in the garment sector, the country's largest Denim industry and sugar refinery is being run with the investment of Islami Bank, he added.
He said, IBBL is the largest bank of the country and the only Bangladeshi Bank amongst the top 1000 banks in the world for last 10 consecutive years. IBBL is providing state-of-the-art services to its clients through 382 branches, 205 sub-branches, 2665 agent banking outlets and more than 2000 ATMs and CRM Booths. He called upon all to take part in the work of self-development as well as building a prosperous Bangladesh by availing modern banking solution of IBBL CellFin App, Internet Banking and alternative banking services. – Press release