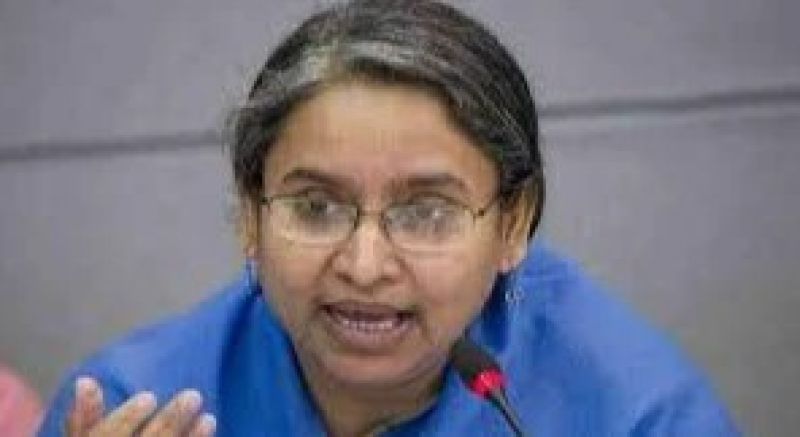 Education Minister Dr Dipu Moni on Tuesday claimed that for lack of any other issue, a vested quarter is spreading misinformation on the new curriculum textbooks to create confusion ahead of the election. 

"its purpose is to incite people against the government through misusing religion and creating instability and anarchy," she said.
The Minister said this while participating in the discussion on the thanksgiving motion on the President's speech in Parliament.
She said that most of the propaganda about textbooks is false, reports UNB.
She mentioned that Awami League has never done anything against Quran and Sunnah and never will.
Education Minister Dipu Moni said that these are being spread purposely through photoshopping the pictures of various books, editing the text.
"Non-curriculum books are being spread by referring to the books of this country.  These books are being criticised by using fictional subjects and images," she said.
She also mentioned that fake and offensive news about the content is being spread. 
"Offensive, nasty statements are being made about book authors, ministers and academics.  They are being threatened."
The education minister informed that two committees regarding the errors in the textbooks have formed.
She said that those who are attacking these textbooks are not involved in teaching at any of their academic institutions. 
"The experimental books are published with the opinion of those who teach in their institutions. Any errors in the book are being and will be corrected."
Dr Dipu Moni said that the intention of those who are criticising is not to correct mistakes. 
"If their intentions were honest, they would have suggested correcting mistakes through constructive criticism.  He would not lie. They would not have done this kind of lying by photoshopping and editing."
Addressing the critics, the education minister said that she believes in her religion, sense of religion, message of religion and religious discipline.
"I pray that Allah gives guidance to those who make these ugly statements.  Allow them to tell the truth, avoid lying, and refrain from trying to destabilise the country."
Jatiya Party MP Kazi Firoz Rashid said that there is extreme corruption in the financial sector. 
"Bank money is being freely looted and is siphoned abroad. Corruption is taking a totalitarian form in today's society.  The middle class is disappearing day by day.  The disparity between the rich and the poor is glaring."
He said that the President cannot say anything about these things.  The president does not have the scope to say these things.  "That's the rule."
He questioned Can the president say that the Awami League is plunged by hybrid leaders through hiring them in exchange of money.
Jatiya Party MP Barrister Anisul Islam Mahmud said that the prescriptions given by the IMF are nothing new. 
He urged to look into the reports of various national and international organizations without dismissing them. 
He said that the report given by CPD is very high standard. 
"You can disagree with that.  But rather than ignoring these reports, one should take a good look at what is there."