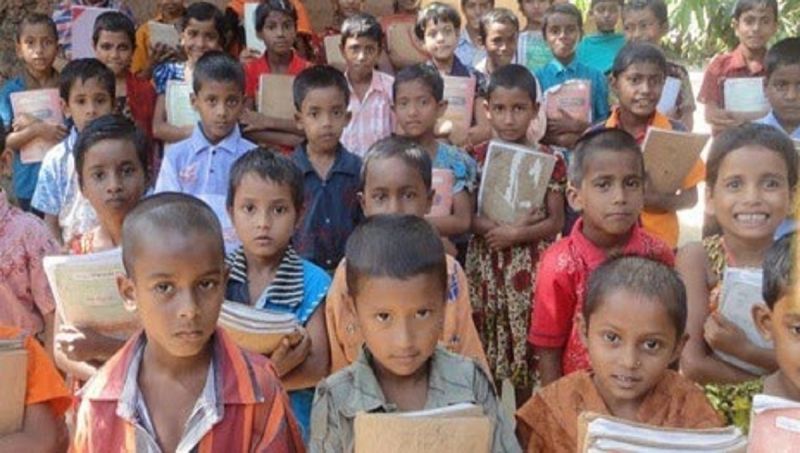 Primary school students in Bangladesh - UNB

Kushtia, Sept 19 –  Returning after 18 months, the students of Ramnagar Paschimpara Primary School in Mirpur upazila of Kushtia district have been deprived of utilising their beloved school playground for any recreation, as the authorities concerned turned the playground into a paddy field during the pandemic-induced closure of schools.

After the reopening on September 12, students all over the country returned to their classrooms with much enthusiasm after a long closure due to the Covid-19 pandemic. But the students of Ramnagar Paschimpara Primary joined classes with a heavy sigh as they returned to see what had been their playground, had now turned into a paddy field.
This was not a case of neglect - a deliberate decision was taken to cultivate paddy on the children's playground, and implemented. 
The paddy cultivated belongs to Ruhul Azam Keru, president of the school managing committee,  who  took advantage of the school closure.
The students and guardians demanded justice and immediate steps in this regard.
According to the school sources, the school stands on government-owned land, and the process is on to place it under government control. The officials of Upazila Primary Education Office also visited the school.
Talking to the reporters, the students of the school claimed that they used to have joyous times in the school playground by playing soccer and other games, but since returning they have had none of that.
The students also demanded that they be allowed to return to their beloved playground, in its previous state.
Acting headmaster of Ramnagar Paschimpara Primary School said "The land of the school is owned by the government and the quality of the school was good. I have no idea why the member of a managing committee has cultivated paddy in the playground."
Contacted over phone, Ruhul Azam denied the allegation against him.
Expressing shock over the incident, Nazrul Karim, general secretary of Mirpur Upazila Sachetan Nagarik Committee, demanded immediate action against the school committee president Ruhul Azam.
Masud Rana, Upazila Primary School Education Officer, said "There is no scope to cultivate paddy on the playground of a school. A team will visit the spot and action will be taken after that."
Linkon Biswas, Upazila Nirbahi Officer (UNO), said "Those who were involved in the incident would not be spared and steps will be taken to bring the playground back to its previous state and shape." - UNB