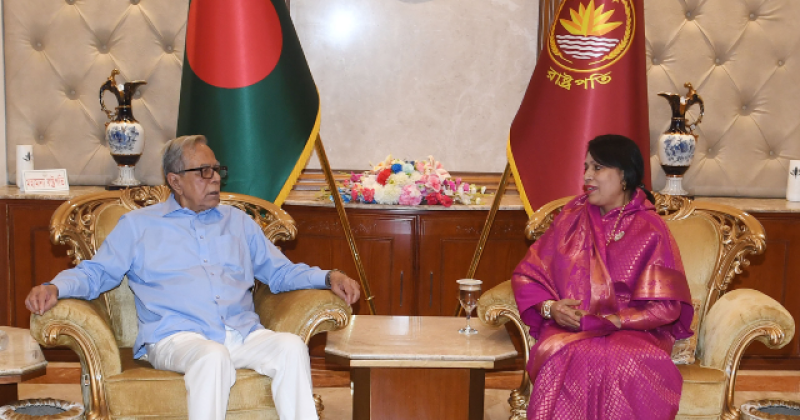 President Abdul Hamid exchanging views with the vice-chancellors of three universities at Bangabhaban on Wednesday, March 15 2023.

Dhaka, Mar 15 - President Abdul Hamid on Wednesday called for ending the partisan politics and adopting a transparent recruitment process in the universities.

The president said this while exchanging views with the vice-chancellors of three universities.
Bangabandhu Sheikh Mujibur Rahman Maritime University Vice-Chancellor Mohammad Musa, Feni University Vice-Chancellor Professor Jamal Uddin Ahmed and Rangamati Science and Technology University Vice-Chancellor Professor Dr. Selina Akhtar met the President on Wednesday.
Meanwhile, the Vice-Chancellors informed the President about their respective universities and sought the President's direction and cooperation in all matters.
The real students should get seats in the dormitories of the universities, and President Hamid asked the Vice-Chancellors to play an effective role in this regard.
The President listened to them patiently and assured cooperation.
The President requested the Vice-Chancellors to conduct employment-oriented and life-oriented education curriculum in the universities. He also emphasised on increasing research activities in universities.
The Vice-Chancellors listened attentively to the President's instructions and thanked him.
On this occasion, President's Office Secretary Sanpad Barua, President's Military Secretary Major General SM Salahuddin Islam were also present.- UNB