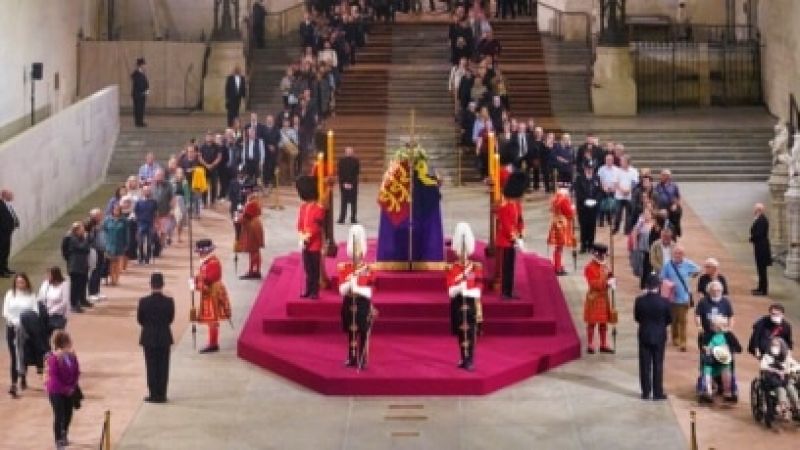 Queen Elizabeth II lies in state. - VOA News

Thousands of mourners have been queuing through the night to pay their respects to Queen Elizabeth II, as she lies in state in Westminster Hall.

She was brought in a procession from Buckingham Palace - Princes William and Harry, along with King Charles III, walked behind the coffin.
Guns were fired in Hyde Park and Big Ben tolled every minute in the sombre ceremony.
There are long queues of almost three miles along the South Bank of the River Thames as people wait to view the coffin.
Hundreds of thousands of people are expected to file past in the coming days.
The Queen's funeral will be held on Monday 19 September - a bank holiday.
Queen's funeral plans
Full details have not yet been revealed, but here is some of what we know or can expect next week.
The Queen's state funeral will take place at Westminster Abbey at 11:00 BST on Monday 19 September. The abbey is the historic church where Britain's kings and queens are crowned, and where the Queen married Prince Philip.
A state funeral is typically held for a king or queen and follows strict rules of protocol, such as a military procession of the coffin and a period of lying in state - that's what's happening now, where the public can see the coffin and pay their respects. The last state funeral was that of Sir Winston Churchill on 30 January 1965.
The ceremony at Westminster Abbey has a capacity for around 2,200 people.Heads of state from across the world will be flying in to join members of the Royal Family to remember the life and service of the Queen. Senior UK politicians, former prime ministers and members of royal families from across Europe are also expected to be there.
It will be broadcast on BBC television and can be streamed on BBC iPlayer, with updates on the BBC News website and BBC radio throughout the day. Other networks are also expected to broadcast the event, and it will be shown on big screens in many towns and cities across the UK. – BBC News