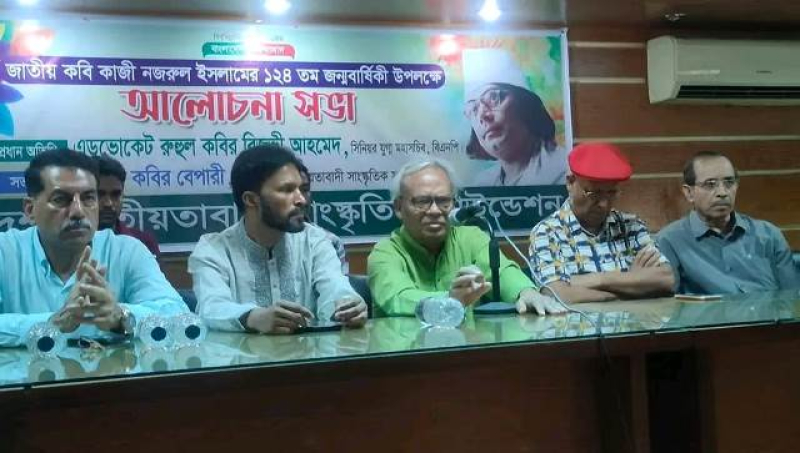 Senior Joint Secretary General of BNP, Ruhul Kabir Rizvi Ahmed addressing a discussion on the 124th birth anniversary of National Poet Kazi Nazrul Islam on Tuesday as the chief guest.

BNP's senior joint secretary general Ruhul Kabir Rizvi Ahmed on Tuesday alleged that there were attempts to undermine National Poet Kazi Nazrul Islam at state level activities.

Addressing a discussion meeting organized on the 124th birth anniversary of the poet by the Jatiyatabadi Cultural Foudation at the Swadhinata Hall in Segun Bagicha he said Nazrul's books were dropped in government purchase of titles this year.
He said that the people did not have any reservations against organization of programmes to highlight Poet Rabindranath Tagore. But Nazrul is our national poet but not getting his due importance in the cultural programmes of the government.
Rizvi said attempts were also made to project three more poets along with Tagore and Nazrul although the two great poets cannot be compared with anyone else in Bangla literature.
Presided over by Humayun Kabir Bepari, president, Jatiyatabadi Cultural Foundation, the discussion meeting was also addressed by poet and Nazrul researcher Abdul Hye Sikdar, editor of GreenWatch Dhaka, Mostafa Kamal Majumder, BNP's joint secretary general Khairul Kabir Khokan, and central committee member ANM Rahmatullah among others.
The speakers said that Nazrul's songs and poems reflected an important element of Bangladesh's nationhood and he was very dear to the people for his simple and down to earth expressions. But Nazrul was neglected in educational curricula while cultural programmes on him were seldom organized.
Kazi Nazrul Islam inspired our was of liberation, wrote on equality and drafted many important documents of the Communist Party of India. He was a man of the oppressed humanity, but the leftist parties in the country appears to have forgotten him. – GW News Desk