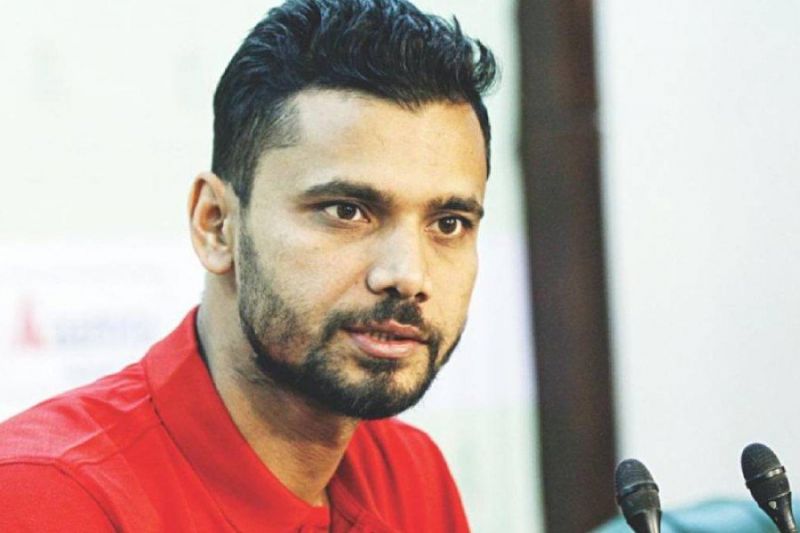 Dhaka, 28 June — Former Bangladesh captain Mashrafe Bin Mortaza urged the Bangladesh Cricket Board (BCB) to allow foreign players in the country's domestic first class cricket tournament in a bid to make a good stride in the Test cricket, a format in which the Tigers proved their vulnerability time and again.
Bangladesh had recently been swept in two-match Test series against West Indies and their 10-wicket defeat in the second Test was their 100th in this format. The Tigers are in fact the quickest to concede 100 defeats amongst the other Test nations.
In the wake of the situation, critics lashed out at the cricketers for their impatient performance in this format in which they won just 16 matches out of 134 in 22 years.
Bangladesh currently have two first class tournaments in National Cricket League (NCL) and Bangladesh Cricket League. (BCL).
"Foreign cricketers may play in our domestic first class cricket. Our first class cricket structure is not strong enough like Ranji Trophy, Sheffield Shield of County cricket. If foreign players are allowed in our system, I think we may gradually improve in this format," Mashrafe said here today.
In order to overcome Test failure, Mashrafe suggested that first and foremost, one should develop the habit of winning on home soil, then abroad.
"Our first plan was to win as many matches as possible at home, our plan was to how could we win 80 per cent of the matches. We defeated teams like Australia, England. A little back from that place has become a problem. But now we have to win the most matches at home, "Mashrafe, the most successful captain of the country added.
Bangladesh has a record of losing 45 matches in a row in ODIs. Apart from this, no team in the world has lost in 20 consecutive matches. Then the victory began to come slowly. The success rate was higher at home than abroad. Then evolution took place under the leadership of Mashrafe as Bangladesh became one of the strongest teams in white ball cricket. They reaped reward by reaching quarterfinal of the 2015 World Cup quarter-final and the 2017 ICC Champions Trophy semi-final.
"First of all, we have never been better in Test cricket," Mashrafe said. We occasionally won a few matches at home, moving towards an improvement. But suddenly we are down again. We have never been consistent in Tests."
Shakib Al Hasan led Bangladesh Test cricket from the West Series. Mashrafe sees positive things in it. According to him, Test leadership should be in the hands of the most experienced cricketer. Mashrafe believes that Bangladesh will improve in Tests under Shakib's leadership.
"The positive thing about Test cricket is that Shakib is a very experienced cricketer," he said. "Shakib is the captain now, but nothing can happen overnight. Shakib has said some things that have depth."
'I think it is a blessing that Shakib has become the captain. What I said is that you don't have to think about anything overnight. Sudden successes will never come. All 11 have to perform to do well in Test cricket."
Mashrafe, who had played with Shakib for a long time, thinks there is no need to give the ace all-rounder a message.
"So there is nothing to give a message to Shakib. He knows how to change the team. He has captained twice before. I think Shakib knows how to handle everything."
"If the rest do not perform, Shakib will not be able to do anything alone. It's clear in the West Indies series. He is the best batsman of Bangladesh in this series with 136 runs. But still Bangladesh faltered."