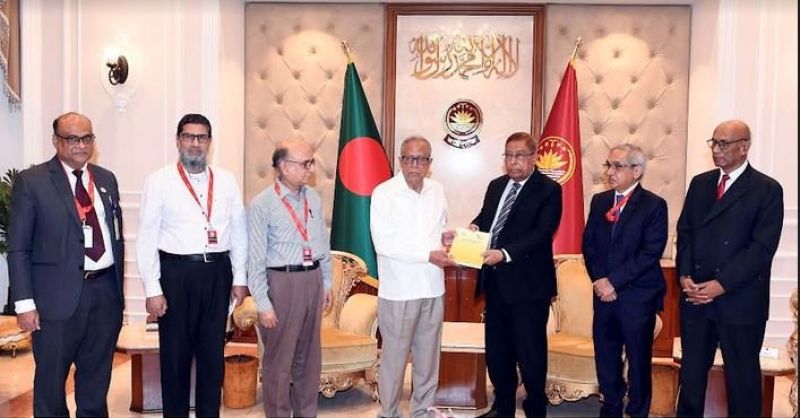 President M Abdul Hamid today asked all concerned to ensure the transparency in spending public money for the sake of the public interest.

The President came up with the directives as a delegation of Comptroller and Auditor General of Bangladesh (CAG) led by Comptroller and Auditor General of Bangladesh (CAG) Mohammad Muslim Chowdhury submitted Annual Audit Report to him at Bangabhaban here this evening.
President Hamid said audits are very crucial to ensure transparency and accountability in government expenditure.
The head of the state directed the CAG to intensify the audit activities to settle the unresolved audit objections in a timely manner.
After the meeting, President's Press Secretary Md Joynal Abedin told newsmen that during the submission of the report, the CAG apprised the President of the different aspects of the report of the office of the CAG, the Supreme Audit Institution (SAI) of Banglades.
Later, a delegation led Bangladesh Accreditation Council Chairman Prof Dr Mezbah Uddin Ahmed presented the first annual report of the Council to the President.
The Bangabhaban spokesman said during the meeting the Accreditation Council chairman briefed the President on various aspects of the report and the overall functioning of the Council.
Hamid directed the Accreditation Council to play an effective role in ensuring transparency and accountability in the overall activities of education and research in the universities.
The President also suggested bringing the activities of the university under monitoring to ensure the quality of higher education.
President's Office Secretary Sampad Barua, Military Secretary Major General SM Salah Uddin Islam, Press Secretary Md Joynal Abedin and Secretary (attachment) Md Wahidul Islam Khan were present on the occasion.