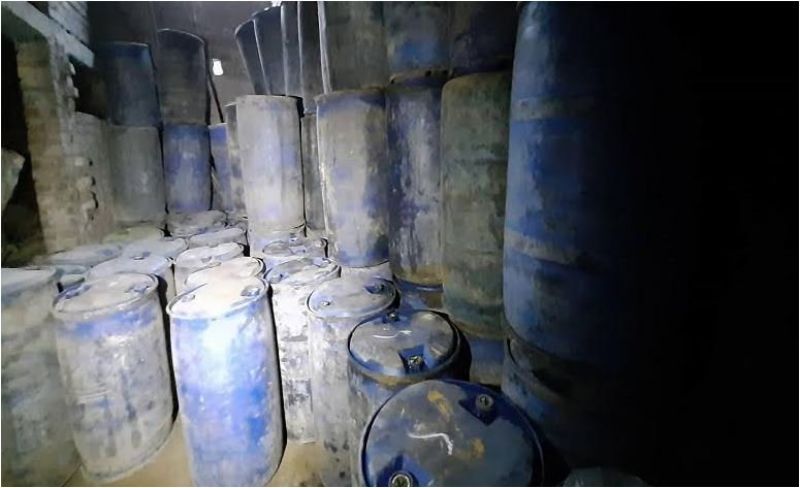 Police recovered 93,616 liters of soyabean oil on charge of hoarding illegally after conducting raids in some godawons and shops at Baneshwar Bazar in Puthiya upazila of the district this afternoon.
Additional Superintendent of Police Ifte Khayer Alam told BSS that district police and Puthiya Police Station jointly conducted the raid and seized the huge edible oil.
He, however, said they will be able to provide detailed information about the raid and recovery after proper scrutiny of documents related to the oil.
Earlier, the district police in a three-hour raid seized around 27,000 liters of edible oil, including 20,000 liters of soyabean oil, from two godawons at Taherpur area under Bagmara upazila in the district last night.
Ifte Khayer Alam said this morning that they also arrested one person for his involvement in hoarding the huge edible oil.
He said they conducted the raid from 7pm to 10 pm in the two storages and recovered 19,176 liters of soyabean oil and 7,548 liters of mustard oil.
Shahidul Islam Swapan, 40, and his brother Rafiqul Islam, 45, hoarded the edible oil in the godawons with an ulterior motive to gain more profit through creating artificial crises.
A case was recorded with Bagmara Police Station in this connection.
Meanwhile, three traders were fined Taka 75,000 for their alleged involvement in manipulation of soyabean selling in different markets in the city today.
Department of National Consumers Rights Protection (DNCRP) conducted raids in Shaheb Bazar and Boharampur areas and found some of the businessmen involved in hoarding and selling the edible oil in high price compared to the fixed one.
DNCRP Assistant Director Hassan Al Maruf told BSS that they found 132 bottles of soyabean oil remaining hoarded in Messers Humayun Store at Saheb Bazar and they fined its owner Humayun Kabir Taka 20,000.
They also found the Messers Nurunnabi Traders at Boharampur crossing selling soyabean oil at exorbitant price and fined its owner Nurunnabi Taka 50,000 on the spot.
Nazrul Islam, Owner of Messers Pappu and Brothers at Saheb Bazar, was also fined Taka 5,000 on charge of selling the edible oil at hiking price.
Hassan said their drive against irregularities and manipulation in selling edible oil will continue for the greater interests of the public in general, reports BSS.