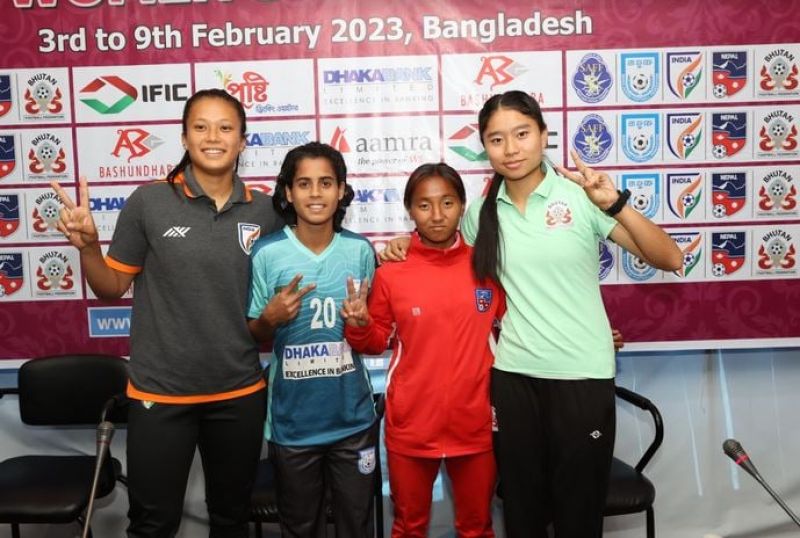 Dhaka, 2 Feb - Hosts Bangladesh face visiting Nepal in one of the two opening day's matches of SAFF U-20 Women's Championship that begins tomorrow at Birshreshtha Shaheed Sepoy Mohammad Mostafa Kamal Stadium in the city's Kamalapur area.
The match kicks off at 7 pm, following the day's other opening match between India and Bhutan that begins at 3 pm at the same venue.
Bangladesh will definitely take to the field as favorite following the women team's success in the SAFF Women's Championship held in Nepal last year.
Bangladesh U-20 Women Football Team's Captain Shamsurnahar Jr., however, sees all the four teams have equal chance of doing well in the tournament.
Addressing at a pre-match press conference, held today (Thursday) at the conference room of Bangladesh Football Federation (BFF) Bhaban, Bangladesh U-20 team's Captain Shamsurnahar Jr. said they would give their level best to play a good brand of football against Nepal.
She said Nepal, India and Bangladesh all have equal strength and the team, who would give their best on the day, would get the chance and able to come out successfully.
Head coach Golam Robanni Choton who was present at the press conference, said that his girls would do better in this age-based tournament than the previous occasions.

"We want to see how well the team is performing from one tournament to the next and how much the team gained improvement... the girls can also realize that the expectation is huge from them and the coach hoped they (girls) will put all their efforts to fulfill everyone's expectations," Choton said.
"I can confidently declare that they (girls) will show better performance in the tournament than the last tournament they played in their home ground last time," he added.

India, Nepal, Bhutan and Bangladesh will compete in the regional competition organised by the South Asian Football Federation (SAFF) under the supervision of the Bangladesh Football Federation (BFF).
The tournament will be held during February 3-9 on a league basis.
In the remaining league basis matches, Bangladesh will face their arch-rivals India on February 5 at 7pm while Nepal will encounter Bhutan on the same day at 3pm.
Bangladesh will play Bhutan on February 7 at 7pm in their last league match while India will encounter Nepal at 4pm on the same day.
After the league basis matches, the two top teams will play the final on February 9 at 6 pm at the same venue.