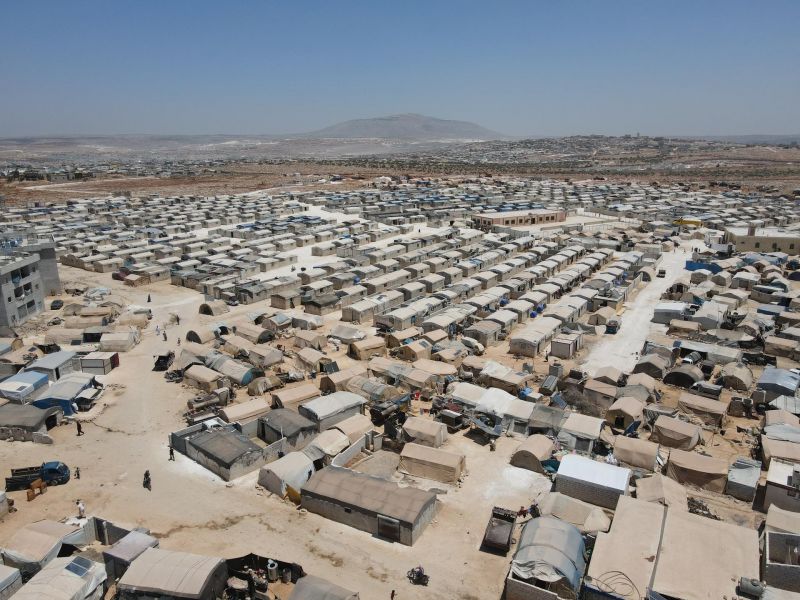 Refugee camps near Kafr Lusin in Idlib countryside on the Syrian-Turkish border on July 2, 2021. (Photo by Rami Alsayed-NurPhoto via Getty Images)

Internally displaced people (IDPs) make up the largest group of displaced people in the world. By definition, they have been forced to flee their homes to escape armed conflict, violence, human rights violations, natural disasters, or climate-related events, but have not crossed international borders to find safety. While the rights of refugees—who are outside their countries of origin—are protected by a range of norms, principles, and laws at international, regional, and national levels, those of IDPs are not. Although IDPs' home states are technically responsible for their protection, those states are often unable or unwilling to fulfill their duty. In many cases, the home state is in fact the cause of internal displacement, and even actively persecutes IDPs. As a result, IDPs often lack the protections they need during emergency and long-term stages of displacement. This is exacerbated by the fact that efforts to address the plight of IDPs generally receive far less attention, funding, and resources than those for other displaced groups. Yet many are facing some of the direst humanitarian crises in the world, including in the Democratic Republic of the Congo, Yemen, Syria, and the Central African Republic.

The international community has made some advances in how the humanitarian system responds to internal displacement. In recent years, the United Nations (UN), intergovernmental regional bodies, and other actors established various IDP-specific principles and frameworks, including the Guiding Principles on Internal Displacement and the cluster approach, a coordination mechanism for IDP responses and other emergencies. The Kampala Convention and the IDP Protocol of the Great Lakes Pact also stand out as important regional models for upholding the rights of IDPs. More recently, the UN Secretary-General established the High Level Panel on Internal Displacement to provide concrete recommendations to better prevent, respond, and achieve solutions to internal displacement.
Among the most prominent ideas reinforced from these initiatives, which are largely grounded in existing human rights law, is the notion that states are first and foremost responsible for ensuring IDP protection, assistance, access to rights, and solutions. Overall, their aim has been to make IDP responses more transparent, accountable, and predictable. However, there is still long way to go.
The reality is that many gaps remain. Responses to IDP situations are still largely ad hoc and at the will of politicians. Glaring divides between relief, development, and peacebuilding actors make long-term solutions difficult to achieve. And despite a semi-functioning cluster system, coordination remains a challenge. There is also no single lead in the UN system to champion IDP issues. Funding is also patchy, with donors sometimes hesitant to work on IDP and host community projects and fearful of encroaching on national sovereignty in politically contentious settings. Like refugees, IDPs seldom have a say in decisions over the aid they receive or solutions to resolve their displacement, despite being best-placed to make such decisions.
This brief takes stock of internal displacement as a global issue, examining both new initiatives and ongoing challenges to responding to IDP situations. It speaks directly to the priorities of the High Level Panel on Internal Displacement, and provides recommendations to improve IDPs' access to protection, assistance, rights, and paths to durable solutions. Some key recommendations include:
1. Create the position of Special Representative to the Secretary-General on Internal Displacement.
2. Design and implement IDP programs that engage development actors and financing institutions at the earliest stages of displacement.
3. Promote IDP leadership and participation at every level and every stage of response.
4. Create an annual forum to focus on developing IDP solutions.
5. Encourage greater state coherence and ownership of IDP responses and programs.
6. Strengthen regional approaches to internal displacement.
Internal displacement should be a top priority on the international agenda. The humanitarian and development dimensions intersect with some of the most challenging political and security situations facing the world today. While many gains have been made in IDP response, the reality is that many IDPs still have little access to their basic rights and receive only ad hoc assistance and support. Moreover, most IDPs find themselves lacking a long-term solution, in some cases languishing for years in limbo.
There are a number of steps that can be taken to begin to address these challenges, and the HLP is entertaining some of them. Among these, creating an SRSG position to help see through the recommendations of the High Level Panel is a good start. Other efforts to address how humanitarian, development, and peacebuilding actors engage on internal displacement to work toward solutions should also be prioritized. Expanding IDP participation and labor market access are other important issue areas that could have immediate impact on the lives of IDPs. - Refugees International