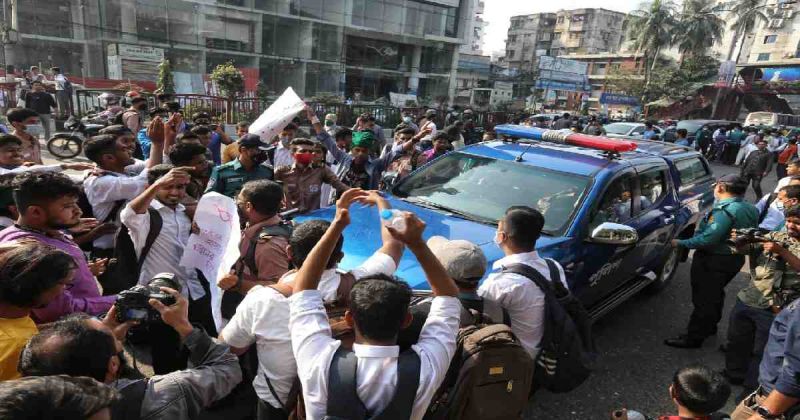 College students took to the streets in the capital again on Sunday demanding road safety, half fare.

Dhaka, Nov 28 : College students took to the streets in the capital again on Sunday demanding the government take measures to ensure road safety and half fare for them in public transport.

Several hundred students of different colleges gathered in front of Rapa Plaza on Dhanmondi-27 road around 12 pm and put barricades on the road to press home their demand.
The recent hike in transport fares following the rise in fuel prices and the death of a Notre Dame College student after being hit by a Dhaka South City Corporation (DSCC) vehicle prompted the students to raise their voice against chaos in the transport sector.
Traffic on Mirpur road remained suspended for one hour, causing sufferings to commuters, said Ikram Ali Mia, officer-in-charge of Dhanmondi Police Station.
Besides, students staged demonstrations in the city's Uttara, Shantinagar and Rampura areas to push for the same demand.
Akter Hossain, traffic inspector (Uttara), said students from different colleges took to the streets at noon. However, they removed their blockade after a while.
The students have been staging demonstrations since November 18 demanding half fares in public transport for students.
They also claimed that no one has paid any heed to their demand though the students have been harassed in public buses.
The death of Notre Dame College student Naim Hasan, who was killed in an accident in Gulistan area of the city on November 24, fueled the movement.
On November 20, students from two colleges vandalised 10-12 buses in Science Laboratory area demanding half fare in the city for students.
On November 18, hundreds of students of Dhaka College demonstrated outside their college to press home the same demand.
The government on November 3 raised the prices of diesel and kerosene by Tk 15 per liter and the Bangladesh Road Transport Authority (BRTA) increased the fares for intra-city and inter-district buses by 26.5% and 27% respectively following an indefinite strike by transport owners on November 7,reports UNB.