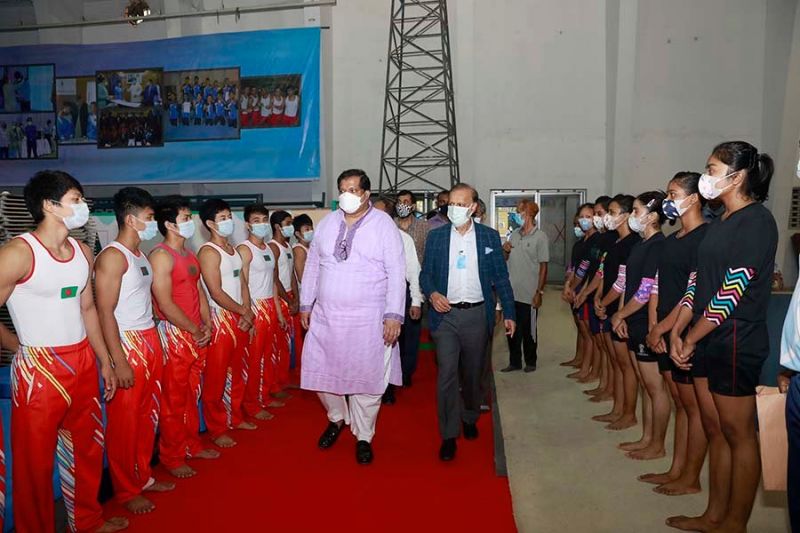 DHAKA - Bangabandhu 5th Int'l Gymnastics competition will begin last week of this month in the city marking the birth centenary of Father of the Nation Bangabandhu Sheikh Mujibur Rahman.
Preparations have been going on full swing for several months to make the tournament a success. As part of this, State Minister for Youth and Sports Mohammad Zahid Ahsan Russel, MP, today visited the National Sports Council (NNC) Gymnasium to witness the training of the Bangladesh gymnastic team as well as to inspect various equipment brought on the occasion of the tournament.
Bangladesh Gymnastics Federation (BGF) president Sheikh Bashir Ahmed Mamun, NSC Secretary Mohammad Masud Karim and the BGF officials were also present there. During the visit, the state minister got informed about the organization of the tournament and various equipment brought on the occasion.
During the visit the state minister aware of some problems in the gymnasium and the he instructed the authorities to solve all these problems. He also got acquainted with the gymnasts participating in the tournament.
Russel said: "All arrangements including training will be made by the federation and the government in order to get expected result in the upcoming tournament which will be organized marking the birth centenary of the Father of the Nation .... not only in this tournament but also in various int'l events in the future so that Bangladesh can achieve good result ..... the government will provide the necessary support in this regards."
BGF president Sheikh Bashir Ahmed Mamun said that although gymnastics training is going on throughout the year, eleven boys and nine girls selected gymnasts are being trained for the upcoming tournament. Intensive training with the selected players has been going on for the last six months. All necessary steps have been taken including accommodation for both the boys and girls gymnasts.
Mamun informed that "Apart from host Bangladesh, seven countries have confirmed their participation so far in the upcoming tournament. Beside, several other countries have shown their interest to participate the tournament. On the occasion of the tournament, we have bought various equipment worth Taka 35 lakhs spending the fund from the federation."
Apart from this, the International Gymnastics Federation (FIG), the executive body of the sport, has provided various equipments worth Taka 1.5 crore, he added.BSS