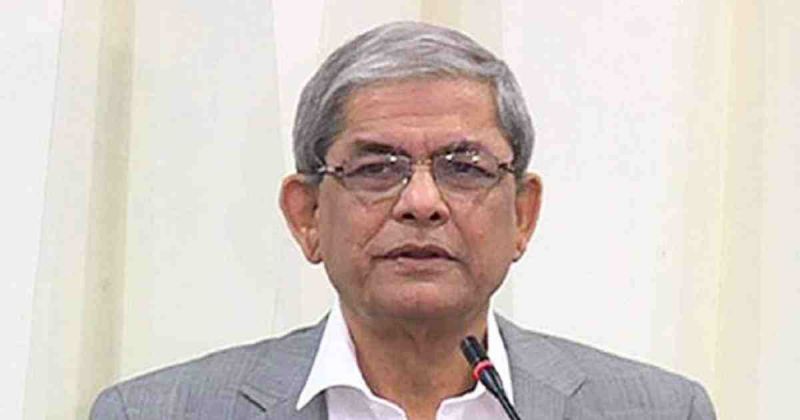 BNP Secretary General Mirza Fakhrul Islam Alamgir on Wednesday alleged that many activities of Finance Minister AHM Mustafa Kamal have no link with the constitution and ethics.

"He (Kamal) proposed legalising the laundered money. His (Finance Minister's) own firm has long been involved in manpower business…he is doing many things that have no connection with the constitution and ethics," Fakhrul said.
Talking to reporters at his local residence, the BNP leader also alleged that the ruling party itself has siphoned off money abroad and it is now legalising that illegal money.
"Bangladesh is now no longer a civilised and democratic country. They (AL) have turned it into a barbaric, uncivilised and failed state," he observed.
About the Cumilla polls, Fakhrul said people had an expectation that the Election Commission would try to exert its power to free the election from the ruling party and the government's influence.
"But it's unfortunate that a ruling party MP didn't leave the election area even after receiving a letter from the Election Commission. "This has demonstrated the helplessness of the entire Election Commission, including the Chief Election Commissioner," he said.
The BNP leader said the ruling party MP stayed in the election area violating the EC's instruction at the behest of the government. "This incident has proved that not only the Cumilla city election, but the entire election system in Bangladesh has been taken under the control of the government."
Earlier on June 8, the EC ordered local Awami League President AKM Bahauddin Bahar MP to leave electoral areas under Cumilla City Corporation for allegedly violating the electoral code of conduct ahead of the polls.
However, Bahar, a ruling party MP from Cumilla-6 seat, did not comply with the EC's order.
He alleged that the government has destroyed the Election Commission like other state institutions.
"That's why not only us, but all the opposition parties are saying that it is not possible to have a fair election under any Election Commission without a polls-time neutral government," the BNP leader said.
Fakhrul said the ex-election commissioners also at a meeting recently said a free and fair election is not possible under a partisan government in Bangladesh due to the prevailing electoral culture of the country.
"So, a neutral government during elections is very much needed in Bangladesh. BNP will not go to any election under the present government, no matter what," he said.
The BNP leader said their party is now holding talks with different political parties to wage a strong movement to ensure a credible election under a non-party government, reports UNB.