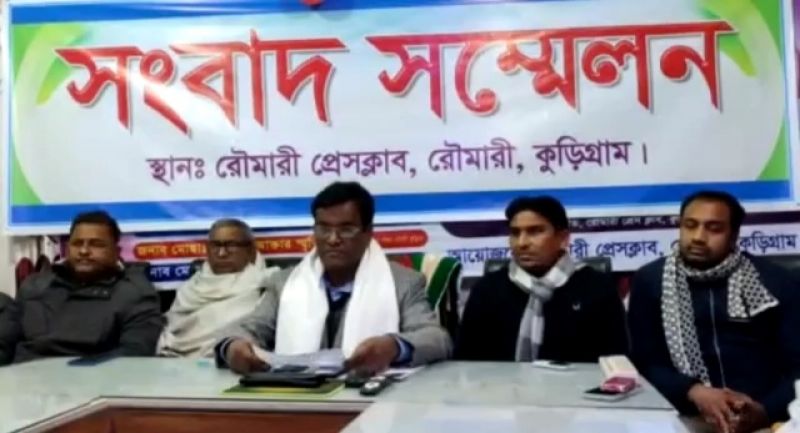 Awami League press conference at Roumari Press Club held on Saturday.

Kurigram, Jan 22 --A leader of the Rowmari upazila unit of Awami League (AL) has been relieved from party post over assaulting a headmaster in the upazila under Kurigram district.

The accused is Rokonuzzaman Rokon, relief and social welfare secretary of the Rowmari upazila unit of Awami League.
General Secretary of Rowmari upazila Awami League Abu Huraira made the announcement at a press briefing on Saturday night.
On instruction of the general secretary of the district AL, Rokonuzzaman was relieved from all party responsibilities, including the post in the newly announced committee of the upazila unit of Awami League, for "beating the teacher and breaching party discipline", he said.
A case was also filed against two named, including Rokonuzzaman, and 10-12 unidentified people on Saturday evening, said Rup Kumar Sarkar, officer-in-charge (OC) of Rowmari Police Station.
The other accused is Rokonuzzaman's associate Asadul Islam.
On January 19, the victim, Nurunnabi Haque, headmaster of Phulkarchar Junior Secondary School, lodged a written complaint against them at Rowmari Police station.
Nurunnabi said that he had a dispute with Rokonuzzaman and Asadul over the recruitment of school teachers.
Rokonuzzaman and his men picked him up from Rowmari Upazila Parishad premises and took him to the a bus counter where he was given death threats earlier in the afternoon.
Later, the headmaster was taken to the office room of Abu Huraira, general secretary of Upazila Awami League and headmaster of Rowmari CG Zaman High School on a motorcycle, where he was beaten. He wasater admitted to the Rowmari Upazila Health Complex. - UNB