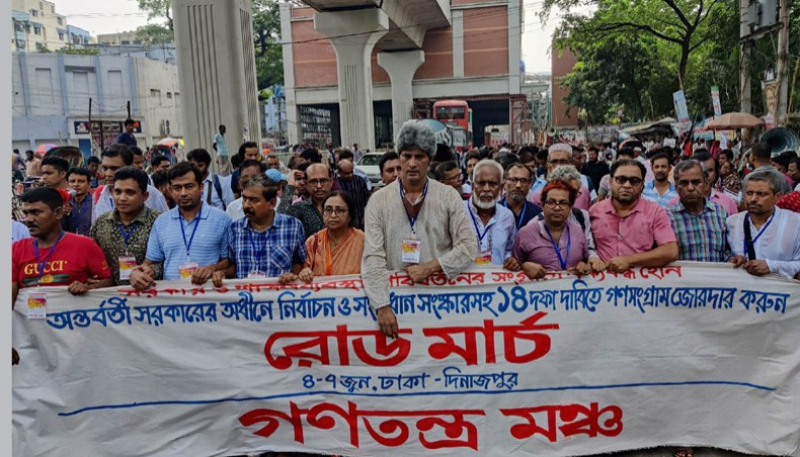 Ganatantra Mancha on Sunday launched a four-day road march towards Dinajpur from the capital to press home their 14-point demand, including the resignation of the government, dissolution of parliament, and handing over power to an interim government.

The leaders of the Ganatantra Mancha, an alliance of some opposition parties, began the road march in front of the Jatiya Press Club around 10 am after holding a brief rally.
Addressing the rally, Saiful Haque, the coordinator of the alliance and general secretary of Bangladesh-er Biplobi Workers Party, said they would hold rallies in different areas including in Gazipur, Tangail, Sirajganj and Bogura on their way to Dinajpur.
"We hope that there will be no violence and provocation from the government, ruling party and administration. We want to end our road march peacefully," he said.
Haque said their road march will end through a rally in Rangpur on June 7 and they will announce their next course of action from that rally.
He said Prime Minister Sheikh Hasina's remarks on the US visa policy exposed her anger and resentment.
"The government has been saying that this visa policy was announced against opposition parties, including BNP. But the through yesterday's remarks of the Prime Minister it has become clear the US has announced the visa policy as they could understand the government is trying to hold a lopsided farcical election," Haque observed.
He said the government is endangering Bangladesh with its obstinacy to cling to power by force. "People can't accept this kind of irresponsible and anti-people government."
Haque strongly protested the installation of a mural in the newly inaugurated Indian parliament building showing the map of 'Akhanda Bharat' or 'undivided India' which includes Afghanistan, Pakistan, Nepal, Bangladesh, Sri Lanka and Myanmar.
"We've not yet seen any protest or condemnation by the Bangladesh government against the mural. This evil effort of India is creating a provocation directly against the independence, sovereignty and national security of the countries of the region. We strongly condemn and protest this," he said.
Ganosamhati Andolon chief coordinator Zonayed Saki said the Prime Minister through her remark on Saturday has admitted that the US announced a visa policy for Bangladesh as her government arranged the most disgraceful and scandalous elections in 2014 and 2018.
"We would like to say it clearly that this visa policy has undermined the dignity of Bangladesh. This government has belittled us to the whole with the polls in the 2014 and 2018 elections," he said.
Saki said they want to hold their four-day road march peacefully and warned that the consequences will not be good if the programme is obstructed anywhere.
After the rally, the alliance leaders took out a procession towards Matsya Bhaban and then started their journey in 7-8 microbuses, reports UNB.