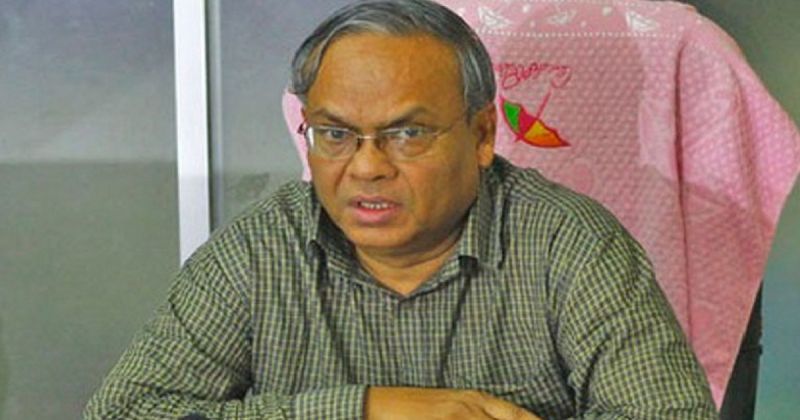 BNP senior leader Ruhul Kabir Rizvi on Monday alleged that new Chief EC , is a staunch supporter of the Awami League.

BNP senior leader Ruhul Kabir Rizvi on Monday alleged that new Chief Election Commissioner (CEC) Kazi Habibul Awal is a staunch supporter of the Awami League.

"The Awami government has again formed the so-called Election Commission with its loyalists and partisan bureaucrats, who were tested in the Awami Laboratory, only to stay in power without voting," he said.
Speaking at a press conference at BNP's Nayapaltan central office, Rizvi also said extremely 'controversial' former bureaucrat Kazi Habibul Awal is also a very favourite person of Prime Minister Sheikh Hasina.
"She considered Kazi Habibul Awal in every case whenever it came to giving appointment to any constitutional post since he is a staunch Awami Leaguer. His entire family is involved in Awami-Baksali politics," he added.
Though BNP earlier said it had no interest in the new Election Commission (EC), the party came up with the allegations a day after the CEC and four other Commissioners had been sworn in.
Earlier on Saturday, President Abdul Hamid appointed former defence secretary Kazi Habibul Awal as the new Chief Election Commissioner.
Based on the search committee's recommendations, he also appointed Brigadier General Ahsan Habib Khan (retd), former district and sessional judge Begum Rashida Sultana, former senior secretaries Mohammad Alamgir and Anisur Rahman as the four other commissioners of the new EC.
The tenure of the immediate past EC, led by KM Nurul Huda, expired on February 14.
Rizvi said Kazi Habibul Awal was the Additional Secretary of the Legal and Drafting wing of the Law Ministry and it was an administrative cadre post.
"Although there was no rule to be appointed as the secretary of the Law Ministry from that post, he got it with the special grace of Sheikh Hasina. The post of Law Secretary is a judicial one. This is why the High Court and the Appellate Division declared his appointment invalid," the BNP leader said.
He said such a person has been made the CEC who did not obey the law in his professional career and whose appointment was declared illegal by both the divisions of the Supreme Court.
"He (Awal) also insulted the judges by the police and apologised to the parliamentary committee…He also became the secretary of different ministries one after another due to close the relationship with the government even after his illegal appointment (as the law secretary)," Rizvi said.
He alleged Prime Minister Sheikh Hasina had finalised the list of her trusted people much earlier for forming the Commission.
"The search committee was just eyewash. That is why those who belong to the Awami Baksal were appointed as the CEC and the Election Commissioners to implement another blueprint for the election," the BNP leader observed.
He also said the new Election Commission is actually the Prime Minister's 'kitchen' commission. "The EC won't have any role in the elections as the DCs and SPs will conduct the polls."