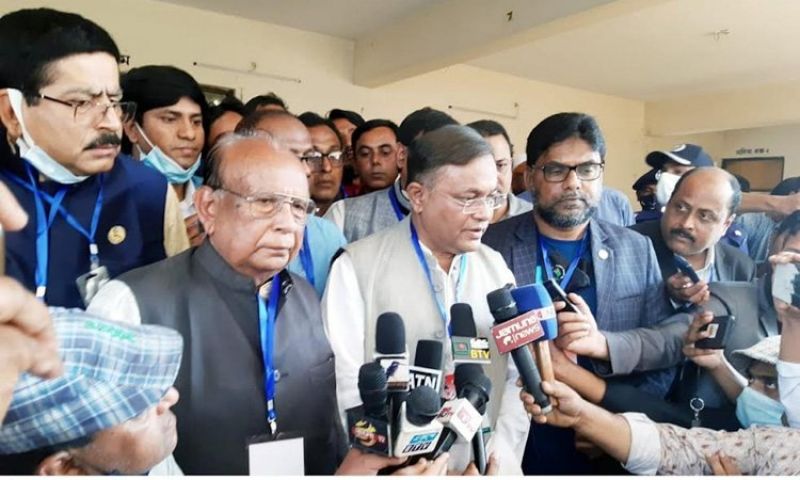 Information and Broadcasting Minister Dr Hasan Mahmud today said the BNP is scared of elections for several reasons and the party has become isolated from the masses for their politics of killing through petrol bombs and arson attacks and terrorism activities.

"Begum Khaleda Zia and Tarique Rahman are not able to take part in the polls as they are convicted accused. For this, they (BNP) have no interest in the elections and they don't want to make the party polls-oriented," he said.
The minister told the reporters before addressing an extended meeting of Awami League Thakugaon district unit at Bidi Hall of Zilla Parishad here.
Hasan said the BNP does politics not for people and the party but only for their own interest. The countrymen understand their tricks and the people have avoided them (BNP), he added.
He said the people don't want to see the BNP in power and they (people) don't want to see the state as a heaven of lootings, corruption and a state of militants. For this, the countrymen have shown red cards to the BNP, not Awami League, said Hasan, also Awami League joint general secretary.
Replying to a query over a comment of BNP leader Ruhul Kabir Rizvi, the minister said, "I visit my constitutional area every week. The Premier handed over the organizational responsibility of North Bengal and for this I need to visit North Bengal and other parts of the state. I've to go to the party office almost every day after completion of ministry works."
On the other hand, he said Rizvi Ahmed is sitting in their Naya Paltan's office and doesn't go anywhere. For this, he doesn't know about the situation of the country, he added.
Criticizing a comment of the BNP secretary general over commodity price, he said the statement of Mirza Fakhrul Islam Alamgir is for creating confusion among the countrymen. The prices of many commodities have increased across the globe due to the recent war, he added.
Hasan said the government of Prime Minister Sheikh Hasina is working on controlling the commodity prices as the lower-income people can buy essentials at a low price.
AL Presidium Member and lawmaker Ramesh Chandra Sen addressed the meeting as the chief guest with AL district unit president Muhammad Sadek Koraishi in the chair.
Organising secretary Shakhawat Hossain Sharif addressed it as the key speaker while central committee members Advocate Hosne Ara Dalia and Advocate Safura Begum Rumi addressed the meeting as special guests.
AL district unit general secretary Dipak Kumar conducted it.