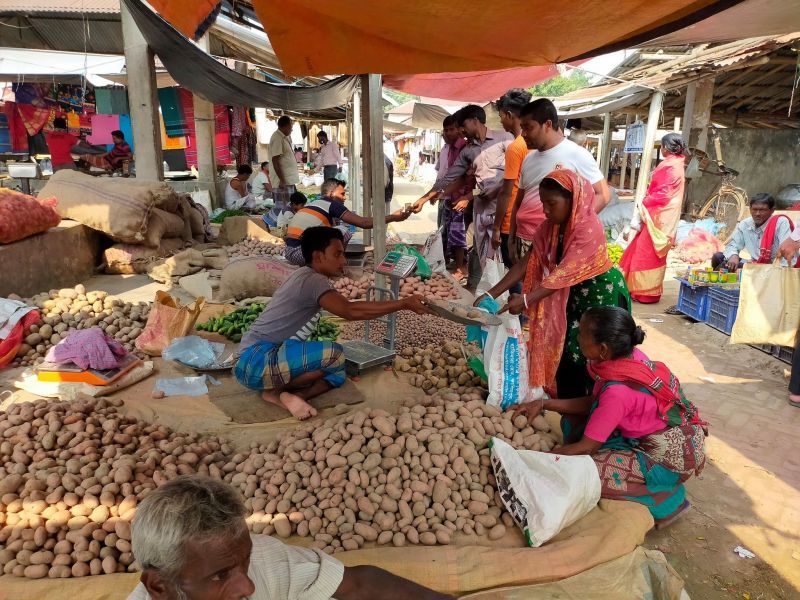 Potato on sale in a Rajshahi market

Unlike other agricultural goods of our country, potato is probably the only agricultural product which is being exported to the after fulfilling the domestic demand. But unfortunately, Potato farmers in Bangladesh lose at least Tk 2,500 crore every year due to unsold surplus production and post-harvest losses according to The Food and Agriculture Organization of the United Nations (FAO). More than 8 lakh tonnes of potato remained unsold this year-they said.

In the absence of a farm-to-fork good agricultural practices (GAP),the country has long been failing to tap the full potential of the export market for this highly demanded crop, thereby failing to help the farmers in benefitting from their surplus production.
Farmers from the northern region of Rangpur are now producing export quality potatoes by using GAP protocols. This year potato production of the country has been expected to be more than 11 million tonnes but domestic demand of potato is about 7.7 million tonnes. Of the surplus,only around a quarter can be stored for sale. The amount of potatoes for sale can be increased more if they are preserved rightly in the cold storages. A total of 400 cold storages across the country store a huge amount of potatoes and meet local demand in the off season. Leaders of Bangladesh Cold Storage Association (BCSA) recently sought cooperation from the Agriculture Ministry in selling the potatoes stored in cold storages and surplus one as the price of the produce fell below the production cost. So they urged the government to provide a Tk9 subsidy per kilogram of potato stored in various cold storages in the country. Agriculture minister Md Abdur Razzak said: "All possible cooperation will be provided for the export and processing of potatoes." the minister also said: "We need to find out what other products can be made using the versatility of potatoes."
According to the Department of Agricultural Extension (DAE),more than 480,000 hectares of land were under potato production this year.potato producers recently came together to inaugurate this year's exports,a sign of the country's continued success in selling potatoes abroad. Bangladesh usually
exports potato to Malaysia, Singapore, Indonesia, Sri Lanka, Thailandg, Hong Kong, Vietnam, the Maldives, Turkey, Azerbaijan, Ethiopia and Nigeria.
Recently Russia lifted ban on the import of potato from Bangladesh after seven years. This gives a huge sign that we have a very big opportunity to produce export quality potatoes in the country and sell to the other countries. In order to do that properly, we need a reliable national policy from our government to solve all the potato export related problems and make it a lucrative crop.
Writter: Ali Abdullah Tanvir Sarker, Student of Refrigeration and Air Conditioning Department (RAC)
at Dhaka Polytechnic Institute (Last year) E-mail: abdullah.tanvir55@yahoo.com Cell: 01537463756