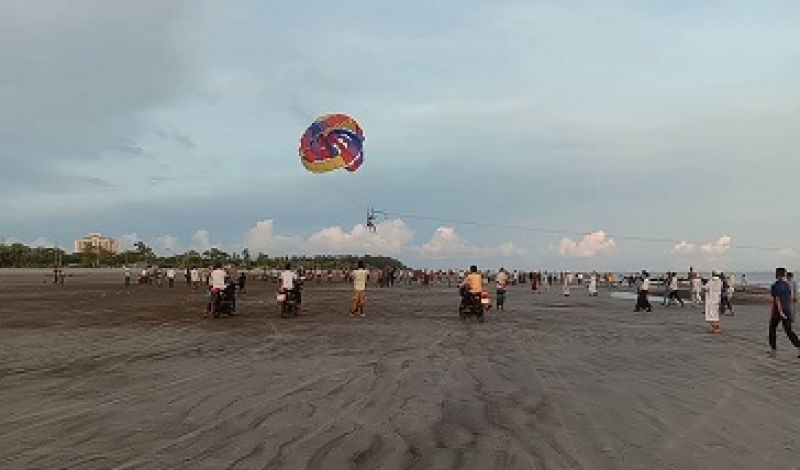 Parachute, new dimension to tourist entertainment at Kuakata

Patuakhali: Parachute was flown experimentally for the first time at Kuakata Beach. Thousands of tourists have gathered to see this parasailing.

The Sea Beach Tourism authority is awaiting permission to fly it commercially for beach entertainment. Liton Khan, the owner of Sea-Beach Tourism, has flown it experimentally several times in the last two-three days.
However, due to the lack of permission from the administration, no tourist was picked up in this parachute.
Liton of Sea-Beach Tourism said, with the experience of the last four years, he is trying to get this parasailing permit for additional entertainment for tourists at Kuakata Beach. He can provide parasailing entertainment to tourists if he gets permission from the district administration.
He also said that parachutes are not often seen. It is mainly kept in aircraft for self defense. Again it is flown to various tourist spots to entertain the tourists. When he flew it experimentally at Kuakata Beach, many tourists wanted to parachute and enjoy the beauty of the beach.
Md. Kabir Hossain, a tourist from Gulshan, Dhaka, said, standing on Kuakata beach, I saw something like a bird flying in the sky. Later I saw parasailing by parachute with the help of a speed boat. I want to do it myself. But I could not get up.
According to the Sea Beach Tourism Authority, we have bought a speed boat here to fly the parachute. All arrangements have already been made for safety, including the use of a water bike and the appointment of skilled drivers.
An application has been made to the District Commissioner for permission. Parasailing will always be done at Kuakata Beach if permitted.
Abdul Khalek, Kuakata Tourist Police Zone Assistant Superintendent of Police said that Parachute is one of the main points of tourist attraction. Is it possible to fly on the beach for tourist entertainment? Adequate security arrangements are in place, considering these aspects the matter will be discussed with higher authorities.
Md. Kamal Hossain, Patuakhali Deputy Commissioner said, whether parasailing can be done on Kuakata beach, the permission will be made known later considering the safety and economy of tourists. - Gofran Biswas